Barebones Servers from Server Case UK
Did you know we have a massive range of barebones server systems, over 746! Our range of barebones server systems are perfect for customers who want a simple base system to work from, with guaranteed compatibility with components.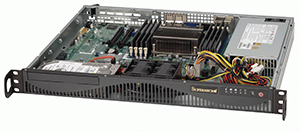 Why a barebones server?

The majority of barebones server systems we sell are Supermicro SuperServers. These are a validated solution, put together by Supermicro themselves. Each SuperServer includes the chassis, motherboard, power supplies and internal cabling ready and plugged in. They also include suitable heatsink's for the available CPU sockets, designed for excellent thermal design and performance.

To complete a barebones server you would only need to buy the internal components. These would include;
More information

To view our comprehensive range of SuperServer and barebones servers please visit http://www.servercase.co.uk/shop/server-systems/barebones/
We can also offer a full system design server. This includes working with you to specify compatible components – You can then either assemble the system yourself or we can fully assemble it for you, perform full stress tests to ensure all components are working correctly, install software and deliver it to you as a full turn-key solution.


To discuss your requirements, or to place an order please call our dedicated technical sales team on 0800 652 1649 or contact us.