Delivery Information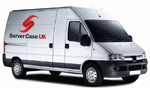 We Can Deliver It the Next Business Day!

Dispatch times

The majority of our products have a same day dispatch on UK orders received before 4.30pm and are usually received by the customer the following working day.

Our delivery service is Next Business Day - The delivery times will be between 8.30am and 6pm Monday to Friday.

We will immediately inform you of any subsequent change to the dispatch time.

Tracking

Our ordering system will send you an email with the tracking information as soon as this is available for each consignment in your order. This is usually at the end of the day (aroundn 6pm), but may not be until the following morning as some couriers don't provide immediate tracking information.

We also sometimes ship from more than one location/courier, so you will be notified by email of each consignment for your order, along with the courier name, website link for tracking, date shipped and the tracking number itself.

UK Orders

All standard UK mainland orders are dispatched using one of our dedicated couriers. This requires a signature on receipt and you would need to be available on the delivery date to sign for the parcel. Our couriers will not leave the parcel with a neighbour or without signature unless prior instructed. If you wish to leave a parcel with a neighbour you would accept liability for the package and our normal returns process would not apply.

If an order is required urgently please contact us as we have arrangements with various same-day couriers. Note that same-day couriers have weight, size and time cut-offs so this cannot be guaranteed.

UK Delivery costs

We operate a shipping system based on the number of items you purchase. The scale of items you purchase and the applicable prices are below. The prices below do exclude any special arrangements we must make, such as
| | | |
| --- | --- | --- |
| Delivery Method | Number of Items | Cost |
| Next Day | 1 Product | £6.95 |
| Next Day | 2 Products | £9.00 |
| Next Day | 3 Products | £12.50 |
| Next Day | 4 to 7 Products | £15.00 |
| Next Day | 8 to 12 Products | £18.00 |
| Next Day | 13+ Products | £25.00 |

* - Delivery costs quoted are excluding VAT. Prices quoted are for UK Mainland only. They exclude Ireland and Scottish Highlands. Our website may charge these prices for these areas but you will be contacted and invoiced separately for the additional carriage to these locations.

Non-UK Orders

Please contact us for a shipping quote.

If your goods are damaged in transit

Please contact us and to request an RMA number, having your order number to hand. Once we have confirmed your RMA request we will organise a courier to collect the damaged goods. In the mean-time, if your RMA request is processed within 14-days of receipt you will be entitled to an immediate replacement – no need to wait for the goods to be sent to us first.

If your goods do not turn up or are delivered late

Please contact us and we will investigate the issue as a matter of priority. If we cannot get a positive answer from our courier's the same day we will ship another item for next day delivery.