Yarvik
With 30+ years of experience in the computer and related hardware industry, Yarvik strives to deliver you products that –simply said- make sense.
We bring along all of our creativity, perfection and collaboration in the development of any of our products, making for a dito end result. Quality is and will always remain Yarvik's paramount importance.
Need Help? Contact Server Case UK today on 0800 652 1649 for product support.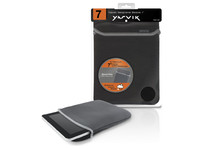 Yarvik YAC100
Yarvik Carrying Case (Sleeve) for 17.8 cm (7") Tablet PC - Black, Grey
£11.17 Inc. VAT
£9.31 Ex. VAT
In
Stock (5)
Yarvik YAC101
Yarvik Carrying Case (Sleeve) for 17.8 cm (7") Tablet PC - Black, White
£11.17 Inc. VAT
£9.31 Ex. VAT
In
Stock (25)