Our Guarantee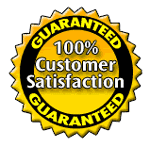 1-Year Guarantee on all products as standard

Product excellence guarantee
Every product you purchase from us comes with a standard 1-year guarantee unless otherwise stated. This includes free replacement of the goods with the same product, substitution if a replacement product is unavailable or a full refund. Our product guarantee covers the build quality of the goods purchased and functionality.
Flexible component replacements
For example, if you were to purchase a server chassis from us that includes a PSU and after 6 months the PSU were to fail, you don't need to send us back the entire server chassis, which would otherwise cause a massive inconvenience – instead, we will send you a replacement PSU.
Other Guarantee's and Warranties
Some products have their own warranty or guarantee made by the manufacturer. Item's that do not include a 1-year standard guarantee or an increased period guarantee will be clearly marked along with the product description before you purchase.
Substitutions
If we no longer stocked the product that you required replacing we would offer either a comparative substitution of similar goods or a direct refund. You would be contacted immediately if this were the case.
RMA Procedures
If a purchased item is found to be faulty within its stated warranty period, please
contact us
immediately to request an RMA number. We will under our own discretion make a decision to send out replacement components and/or goods before we have taken receipt of the faulty goods – a flexible option for many customer's who cannot wait for the faulty goods to be sent out and replacement goods returned. However the advance-replacement goods will remain the property of Server Case UK until the faulty goods are received and confirmed to be faulty.
If you have purchased a product under 14-days ago, you will be entitled to an advanced replacement as standard - this assumed the the goods as either faulty, damaged or an incorrectly delivered product. If the goods received are not compatible with your chosen hardware components or upon receipt you are not happy with the goods we can at our discretion provide an advanced replacement and/or refund, as long as the goods are returned to us exactly as received - we are unable to provide a refund or replacement if a) the packaging has been damaged, b) the product has been used or c) if any of the original components and parts are missing from the package that we receive back.
The carriage cost to send back goods to us is to be paid by the customer, however the cost of shipping the replacement goods will not incur additional cost.
Refund methods


Refunds are usually made to your using the payment method you originally ordered through us with. Please find below a chart of our refund methods.
| | |
| --- | --- |
| Original payment method | Refund method |
| BACS (Bank Transfer) | BACS (Bank Transfer) |
| Credit/Debit Card | Credit Refund |
| Credit Account (Companies Only) | Refund to Credit Account |