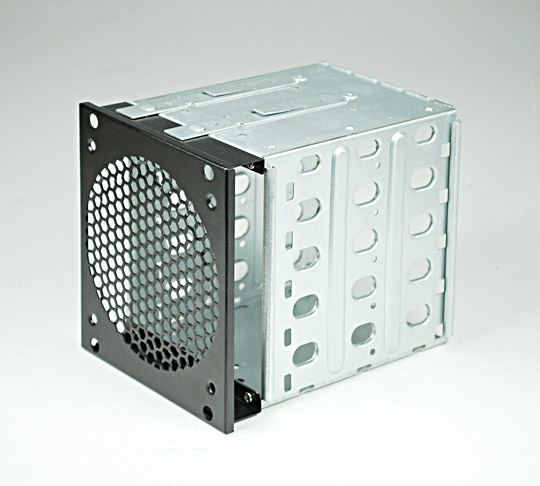 5 x 3.5" in 3 x 5.25" Complete with 120mm front fan
Part Code:
SC-056
Features
5 x 3.5" in 3 x 5.25" Complete with 120mm front fan
Click on a thumbnail below to view a larger image.
Note: We do our best to ensure that the photo's shown are of the current revision of each product, however please contact us if you need to confirm the cosmetic design shown is correct before ordering. The hardware components shown in the photo's are not included and are for illustrative purposes only, please call to confirm if in any doubt.
Product Description
SPECIFICATION
5 x 3.5" internal HDD in 3 x 5.25" Complete with 120mm fan
By inserting this caddy into 3 x 5.25" standard optical bay slots you are able to fit an additional 5 x 3.5" HDD or up to 10 x 2.5" HDD/SSD using optional SC-02A and also benefit from a 120mm fan cooling the array.
Screwless Fitting
Hard drives are fitted using screwless rails which slide in and clip into position.
For standard screw fillting see part code SC-055
Compatible Products
SC-02A 3.5" to 2 x 2.5" Converter

We have 109 In Stock

£2.95 ex VAT

£3.54 inc VAT
£5.99 Inc. VAT
£4.99 Ex. VAT
In
Stock (10)
Next Day Delivery Countdown
Order this product before 4.30pm today and get it delivered for only £6.95 on 25th Sep 2018
Lease this product for only
£0.17 per month
Learn More Today
Leasing Terms & Conditions Apply. Subject to Status. Minimum order of £1000+VAT to qualify. Minimum term of 24 month lease. Lease example shown is for a 36 month lease.