Sales Speak – August 2017
Published by Mark Lambert on 21st Aug 2017
AUG
21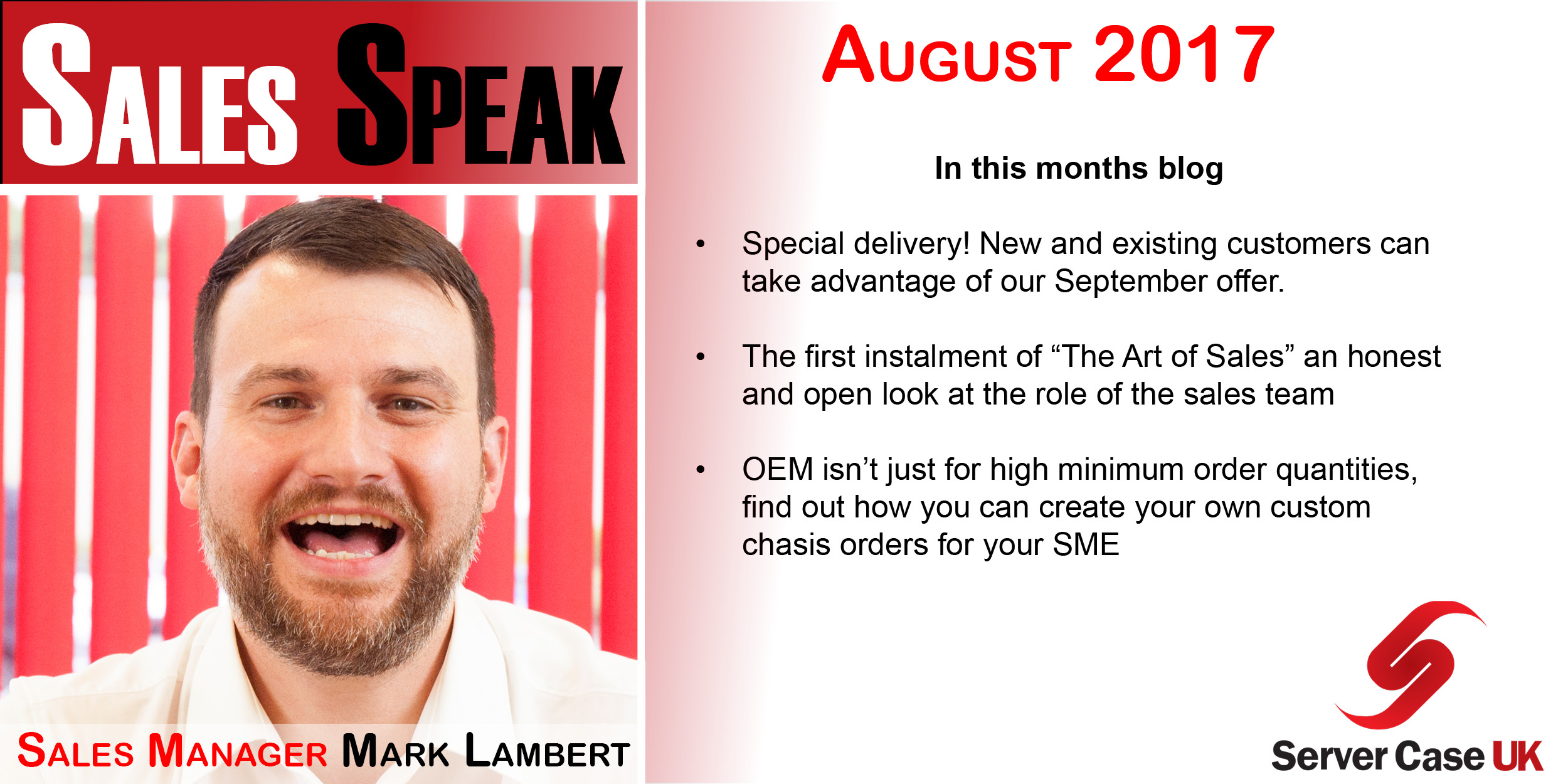 Welcome to Sales Speak where once a month I'll be giving you an insight into my team and the world of sales at Server Case.
No growing pains here
It's been a very busy time here generally but especially within the sales team which has nearly doubled in size.
Thanks to you, our wonderful customers and your increased demand, we have significantly invested in the growth of our company.
We've welcomed three skilled and talented technical salespeople. We added Keith Osborne, our In-Win Business Development manager at the end of June and then Tieran Berrey and Luke McDonnell joined as internal sales executives in July.
All this growth has made it a very exciting time to be part of the sales team and the office is buzzing from all the new conversations with new and existing customers.

Summer lovin' or summer blues?
Sales wise it's a consistent time of the year, people are on holidays, the kids are getting bored and sales tick over, but as much as I love the warm days it's also frustrating.
I love to continually improve as an individual and deliver more results for my customers and the more relaxed summer pace jars with me. I want many more happy customers and that's what I want my new recruits to want too.
We are achieving all our sales projections and have just posted our 16/17 accounts which show a growth of 100% in net profit from last year which is an incredible achievement.
We have also significantly increased our stock holding to service the growing demand for our two major brands Logic Case and In-Win.
So, it's a happy time for us but I'm not one for resting on the beach with a book!

OEM purchases aren't as difficult as you may think they are
One of this year's real success stories has been our increase in OEM sales, we have several additional large volume bespoke chassis requirements than this time last year.
It's interesting because historically there was a perception from customers that OEM modifications carried high minimum order quantities. This provided a barrier for those looking to create their own custom chassis in smaller quantities.
We have worked with manufacturers and along with our own knowledgeable sales team we have informed OEM customers that you can purchase from 50 pcs quantities, this makes it realistic for SMEs as well as large companies.
We will continue to focus on this area as it helps support the growth and success of Server Case UK so please do get in touch with our sales team to find out more details on creating your own custom chassis.

The Art of Sales
I love my job. I've said it and I'm happy to say I am one of those people who wake up happy to go to work. I've got a good team, meaningful challenges and every day I get to talk to great customers.
What I don't like however is bad sales, shoddy sales techniques, lies and poor service is something which shouldn't belong in our industry.
Each month, I'll write a listicle of what makes sales an artform. This is my opinion and mine alone but drop me an email with your thoughts and we can talk server solutions too!
5 things that make a good sales person are:
Excellent listeners

Too many salespeople forget that it's the customer who has an issue that requires a solution, so listen first and sell appropriately.
We have 2 ears and 1 mouth for a reason!

Excellent product understanding

This may sound like common sense but you'd be surprised at the lack of product knowledge that I have ran in to whilst I've been a customer.
I love what I do and that starts with knowing the positives and negatives of our products. My team doesn't just sell, it advises of the correct technical solutions.

Calm under pressure whilst extremely tenacious

You customers are a great bunch but sometimes (…and we'll say just sometimes!) you're hit with a last-minute rush from your customer and you call me in a fluster. That's ok, it happens but the important thing is to stay calm and deliver the goods.

They cannot think in terms of one sale but building a business within our business

We don't work in a silo, it's not about scraping up every penny and upsetting the customer to make a sale. I am proud that at Server Case we work as a team, from technical, to sales, to marketing and delivery, we all work together to provide the best solution for the customer.
The sales team has an important role within the organisation but our outlook matches the wider outlook.

Good leadership qualities that allow them to support the rest of their team around them.

We work together, a team is as strong as its weakest link and using experience to navigate difficult waters is a skill which I intend to pass on to my team.
Thank you to our customers (and our soon to be customers!)
Our customers are key to our success and we believe in excellent customer service, our trust pilot ratings are consistently high (not bragging but 9.6 / 10!)
I'd encourage any new customers to approach us with any enquiry, small or large, so you can see for yourself the service our existing customers receive every time we provide the, with a solution.
To encourage this, I'd like to offer all new customers in September free delivery on their first order with us through an account manager.
To all existing customers (I haven't forgotten you!) I would like to offer delivery at 50% of usual cost if you quote the code "servingyou0917"

Have a great month and we'll speak more sales soon!
Cores for concern?
Published by Andrew McLean on 9th Aug 2017
AUG
09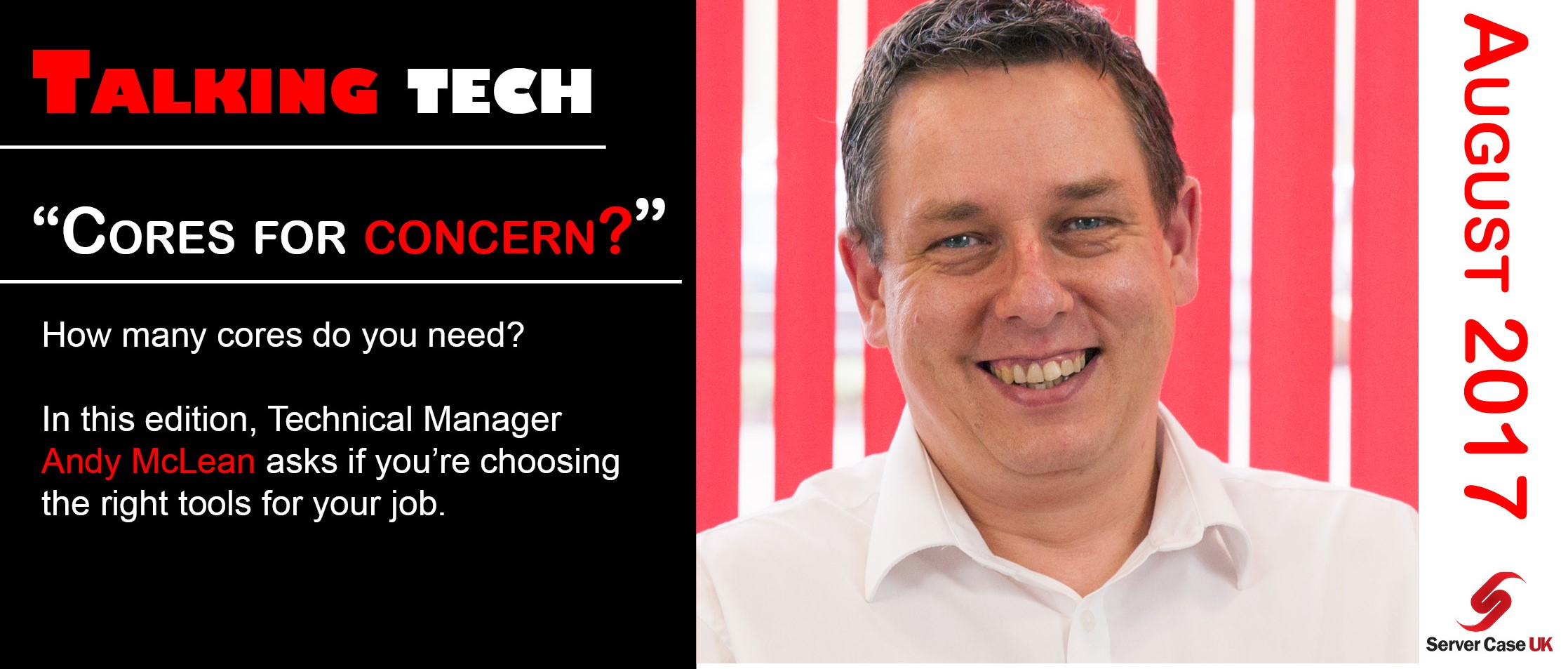 This summer we've seen the launch of Intel's latest and greatest 'Core i7 & i9 series with the announcement of the new flagship i9 7980 XE (Xtreme Edition) 18 core (36 Thread) monster scheduled for release in Q3 this year.
Whilst nothing new to the server arena, this number of cores is a gigantic leap for the desktop & workstation market. Until recently (with AMD's 16 core Ryzen launch earlier this year) most desktop & workstation CPUs have topped out at either 4, 6 or 8 cores……..looks puny in comparison right?....not necessarily.

How many cores do you need?
This depends entirely on what software you are running and what workload you expect your machine to do. For example, a big virtualization server may be running 500 virtual machines in an office block. Each user will need a share of CPU power/ time/ resources as well as memory, storage, network and internet access. Clearly a powerful machine where very much a 'the more the merrier' approach to CPU cores and memory will benefit.
A workstation user primarily working on 3D modelling for the movie/ visual FX industry would also benefit from this as the software in this sector will usually use as much RAM and CPU cores as it can because the software is coded to do so.
Change this workstation to a 2D design system for a package like AutoCAD and it can be a different story. Some software is 'single threaded' or maybe only coded for 4 cores. In which case you could run it quite happily on intel's £1500 i9 7980XE 18 Core (36 thread) uber monster beast with ease……..HOWEVER, you will, if that quad threaded software is your main use, have wasted the best part of £1300 because you will only be using 4 of the CPU's available 18 cores. A quad core (4 core/ 8 Thread) CPU would have been more than sufficient at around £230.
The same logic can be applied to any server, workstation, laptop or gaming PC. They are all very different machines. They all have a specific job to do and should be configured for task. Put simply, tools for the job.
Your business needs aren't 'off the peg'...
Neither are our systems.
Don't forget to follow us on Twitter, add us on Facebook, join our circle on Google +, talk to us on LinkedIn or watch us on YouTube
What's Happening at Server Case UK - August 2017
Published by Arvinder Singh on 7th Aug 2017
AUG
07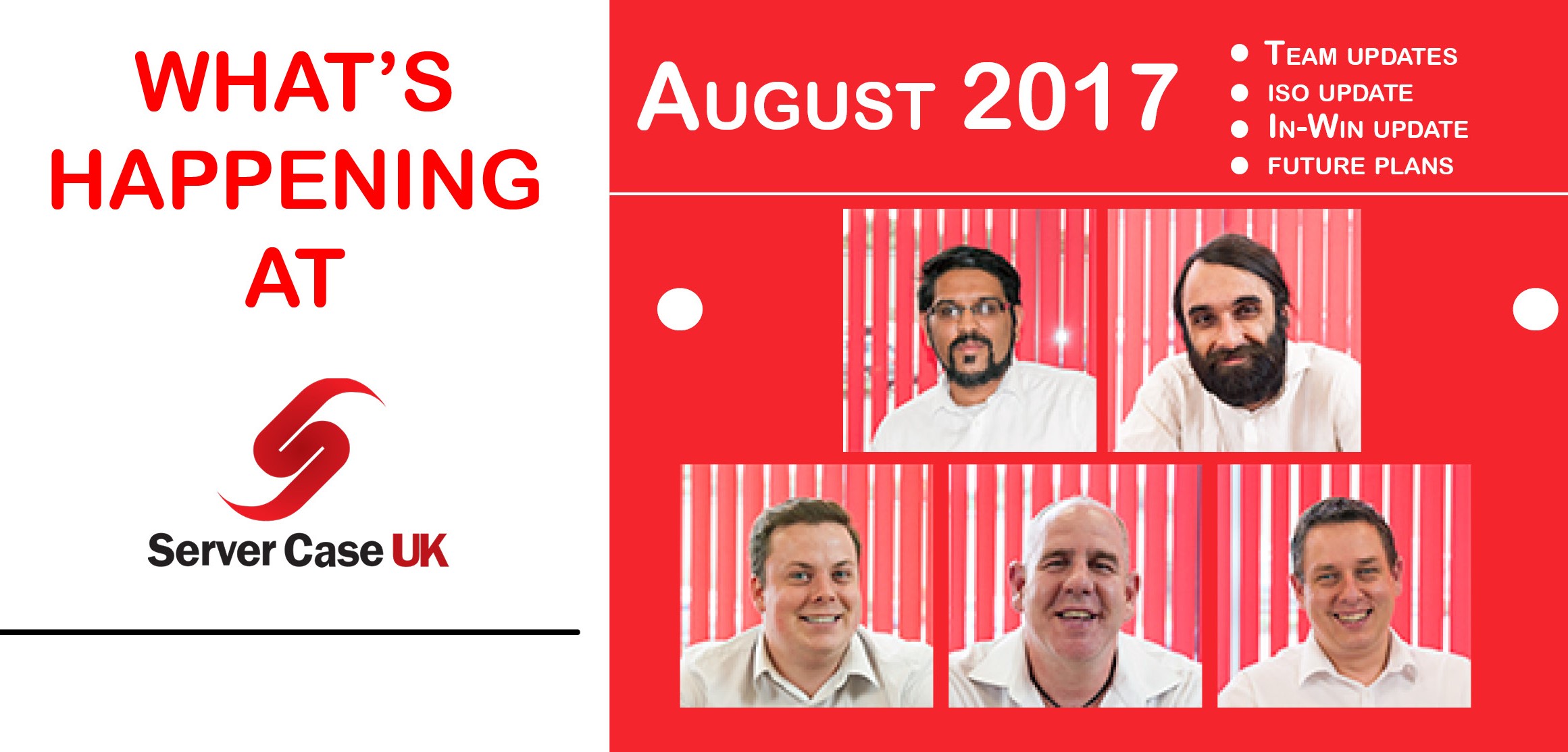 It's an exciting time for Server Case and it means great news for our customers
We've had a pretty spectacular time at Server Case in the past few months. We've brought in new faces, renewed old relationships and we've got a couple of exciting new additions to tell you about.
Team updates
In line with our strategy planning, we have undergone incredible growth the past quarter. I look around the office and I'm happy that we've taken on some superb talent. The team are brimming with enthusiasm, confidence and share an outlook which is the same as mine. They are focused on making sure our customers have the best experience possible.
We've almost doubled our entire workforce in the last 2 months. We've added quality to our sales team, taken on a new head of technical and brought our marketing in-house with a new marketing manager.
| | |
| --- | --- |
| | Tieran Berrey has joined our internal sales team offering server solutions and chassis/components. He comes from Box.co.uk as one of their specialist gaming sales persons. He has extensive technical knowledge with high-end PC's and has successfully integrated server technologies into his portfolio. Tieran brings his own brand of humour and life to the office environment. |
| | Luke McDonnell has joined our internal sales team. He has a degree in computing so is superbly placed to offer technical server solutions and to complement our existing team. Luke has a very bubbly and fun personality which I know customers will love. |
| | Keith Osborne has joined us as our In-Win Business Development Manager following our successful partnership with In-Win in the UK and Europe for their IPC (Server) chassis. Keith's job is to develop the UK sales channel for In-Win for both the supply of the chassis, barebones and full server solutions. His wealth of experience is already paying dividends with winning several large projects and penetration into some exciting markets. |
| | Arvinder Singh has joined us as our own dedicated Marketing Manager. He is chartered by the Chartered Institute of Marketing, he has a MSc in Strategic Marketing and has over 10 years of experience working within very large organisations such as the NHS, MHR and local authorities. Arvinder will be working with the company director and the sales team to develop new marketing strategies, channels, content and to maximise our market share within the UK and Europe. |
| | Andrew McLean has joined us as the head of technical. He has almost 20 years of experience working with high-end workstations, servers and gaming PC's and has extensive experience with liquid cooling and other exotic cooling technologies. He has a wealth of technical knowledge and experience. He will be heading up the production team within Server Case UK. |

I'd like to welcome them all and I know you'll receive an excellent service when you speak to any of them.
Systems and quality achievement
I am proud to announce that we have upgraded our ISO certification from ISO 9001:2008 to ISO 9001:2015. This means that our quality management system, policies and procedures focus on meeting and exceeding your expectations, we also:
have effective supplier management
have efficient and accurate product assembly
have efficient and accurate stock management and delivery

The certification recognises our work and we are thrilled to earn it but it's great to know that we have been working the right way for our customers all this time. 
We have worked hard to make sure we have a customer first culture.
In-win partnership continues to bloom
Our partnership with In-Win continues with the appointment of a new Business Development Manager and we are very happy to be working with a company that provides quality products and shares our values of great customer service. We've worked together for many years now and we look forward to many more.
If you're looking for In-Win chassis, a barebones offering or full server solutions, our new Business Development Manager, Keith is looking forward to hearing from you.
A sneak peek into the (near) future!

We don't stand still here at Server Case, not when there are potential solutions for our customers to be developed. So, with that in mind, there are two new exciting developments that we would like to announce;
ServerStore.com

Our new website will be live in the next 2 months! Server Store is our new customer commerce site and it looks gorgeous! It will be the home for our products and you will be able to easily view and purchase the solutions which fit your requirements.

Wait until you see our configurator and you will be able to create the custom server solution which suits your needs and budget.
Velocity WS

Hot on the heels of Server Store will be a remarkable launch and something we are very proud of.

Velocity WS (the WS stands for workstations) is the home for customisable, purpose built professional workstations for customers who require something special for day to day use.

We envision being the go to solution for Audio Professionals, Video Production, Video Walls/Digital Signage, CAD and many more industry sectors who are not being served well by the many off the shelf products available.

We understand specialist business needs and we have the technical expertise to provide tools not toys.
Look out for both and you will hear much more about both websites soon.
Don't forget to follow us on Twitter, add us on Facebook, join our circle on Google +, talk to us on LinkedIn or watch us on YouTube
Server Case UK Obtains Renewed ISO 9001:2015 Certification
Published by Dan Barker on 12th Jun 2017
JUN
12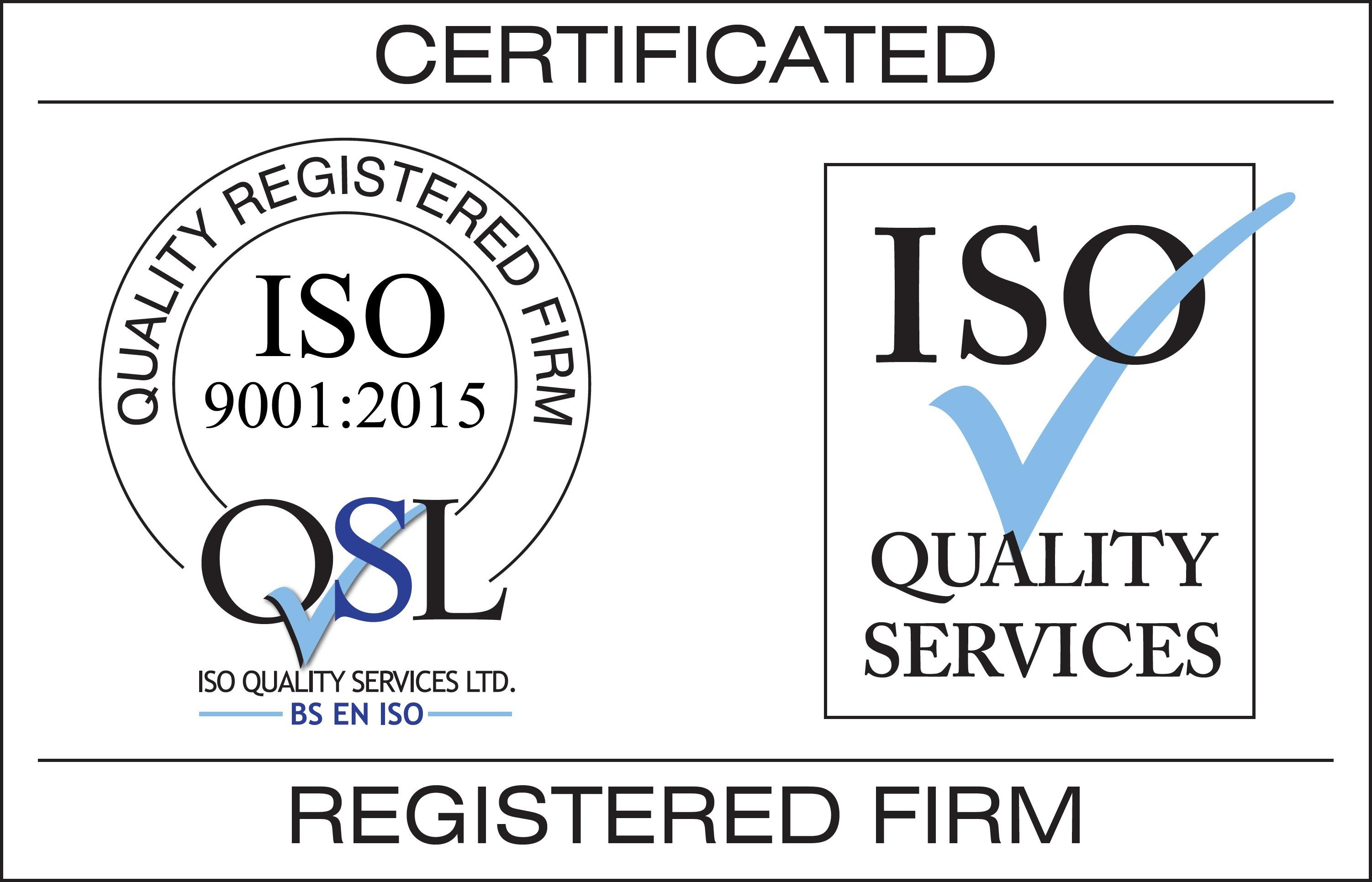 We're really pleased to announce that following a lot of hard work during the past months that Server Case UK Ltd has obtained an upgraded ISO 9001:2015 Certification.
Server Case UK Ltd has been ISO 9001:2008 certified since May 2015 and have successfully transitioned to the new latest 9001:2015 standard.
We have established a Quality Management System in accordance with the requirements of ISO 9001:2008. Our processes and procedures ensure we meet and exceed customer expectations.

The Quality Policy and Quality Management System define and document how quality requirements are met. Expectations are communicated to all personnel through processes, procedures, policies and objectives to ensure satisfactory performance in all business areas.

Our policy is to ensure that our products and services meet expectations through:
Prompt responses to customer requirements both before and after sale.
Effectively managing our product suppliers
Efficient, accurate product assembly, stock management and delivery.
Informed and effective communication
Server Case UK Ltd also have other accreditations - To view our full list click here.
Server Case UK Obtains Intel Gold Technology Provider Status
Published by Andrew McLean on 6th Jun 2017
JUN
06



We're really pleased to announce that Server Case UK Ltd have obtained Intel Gold Technology Provider status.
This is through both the hard work of our technical team, Andrew McLean and Richard Parry, and our continued sales of Intel server based products (E.g. Intel Xeon CPU's, Intel RAID/HBA Controllers and Intel Server Chipset enabled motherboards).
We successfully received Intel Gold Technology Status in May 2017 and are currently working towards Platinum Status. Our membership number is 301392209.