Sales Speak - August 2017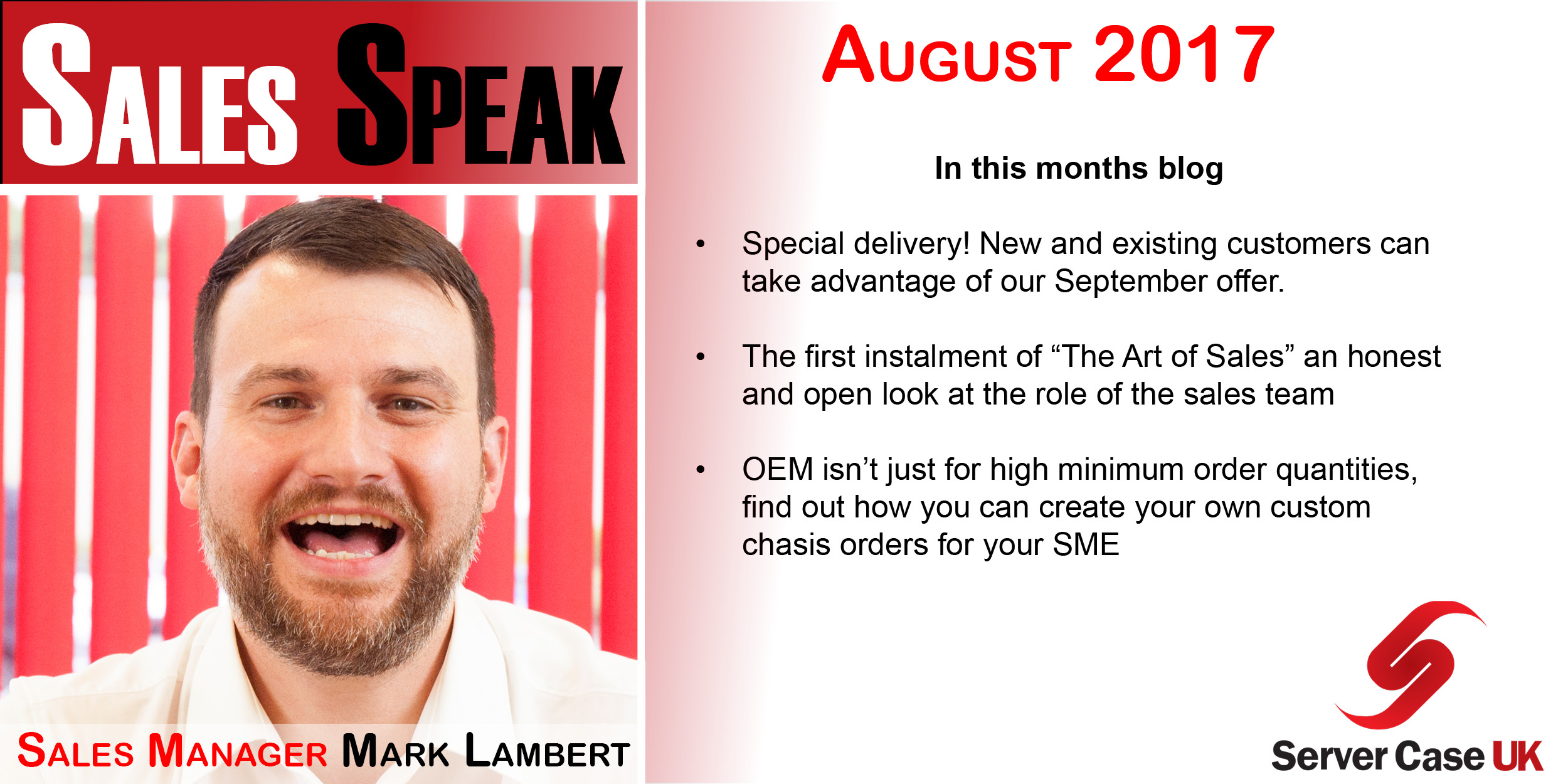 Welcome to Sales Speak where once a month I'll be giving you an insight into my team and the world of sales at Server Case.
No growing pains here
It's been a very busy time here generally but especially within the sales team which has nearly doubled in size.
Thanks to you, our wonderful customers and your increased demand, we have significantly invested in the growth of our company.
We've welcomed three skilled and talented technical salespeople. We added Keith Osborne, our In-Win Business Development manager at the end of June and then Tieran Berrey and Luke McDonnell joined as internal sales executives in July.
All this growth has made it a very exciting time to be part of the sales team and the office is buzzing from all the new conversations with new and existing customers.

Summer lovin' or summer blues?
Sales wise it's a consistent time of the year, people are on holidays, the kids are getting bored and sales tick over, but as much as I love the warm days it's also frustrating.
I love to continually improve as an individual and deliver more results for my customers and the more relaxed summer pace jars with me. I want many more happy customers and that's what I want my new recruits to want too.
We are achieving all our sales projections and have just posted our 16/17 accounts which show a growth of 100% in net profit from last year which is an incredible achievement.
We have also significantly increased our stock holding to service the growing demand for our two major brands Logic Case and In-Win.
So, it's a happy time for us but I'm not one for resting on the beach with a book!

OEM purchases aren't as difficult as you may think they are
One of this year's real success stories has been our increase in OEM sales, we have several additional large volume bespoke chassis requirements than this time last year.
It's interesting because historically there was a perception from customers that OEM modifications carried high minimum order quantities. This provided a barrier for those looking to create their own custom chassis in smaller quantities.
We have worked with manufacturers and along with our own knowledgeable sales team we have informed OEM customers that you can purchase from 50 pcs quantities, this makes it realistic for SMEs as well as large companies.
We will continue to focus on this area as it helps support the growth and success of Server Case UK so please do get in touch with our sales team to find out more details on creating your own custom chassis.

The Art of Sales
I love my job. I've said it and I'm happy to say I am one of those people who wake up happy to go to work. I've got a good team, meaningful challenges and every day I get to talk to great customers.
What I don't like however is bad sales, shoddy sales techniques, lies and poor service is something which shouldn't belong in our industry.
Each month, I'll write a listicle of what makes sales an artform. This is my opinion and mine alone but drop me an email with your thoughts and we can talk server solutions too!
5 things that make a good sales person are:
Excellent listeners

Too many salespeople forget that it's the customer who has an issue that requires a solution, so listen first and sell appropriately.
We have 2 ears and 1 mouth for a reason!

Excellent product understanding

This may sound like common sense but you'd be surprised at the lack of product knowledge that I have ran in to whilst I've been a customer.
I love what I do and that starts with knowing the positives and negatives of our products. My team doesn't just sell, it advises of the correct technical solutions.

Calm under pressure whilst extremely tenacious

You customers are a great bunch but sometimes (…and we'll say just sometimes!) you're hit with a last-minute rush from your customer and you call me in a fluster. That's ok, it happens but the important thing is to stay calm and deliver the goods.

They cannot think in terms of one sale but building a business within our business

We don't work in a silo, it's not about scraping up every penny and upsetting the customer to make a sale. I am proud that at Server Case we work as a team, from technical, to sales, to marketing and delivery, we all work together to provide the best solution for the customer.
The sales team has an important role within the organisation but our outlook matches the wider outlook.

Good leadership qualities that allow them to support the rest of their team around them.

We work together, a team is as strong as its weakest link and using experience to navigate difficult waters is a skill which I intend to pass on to my team.
Thank you to our customers (and our soon to be customers!)
Our customers are key to our success and we believe in excellent customer service, our trust pilot ratings are consistently high (not bragging but 9.6 / 10!)
I'd encourage any new customers to approach us with any enquiry, small or large, so you can see for yourself the service our existing customers receive every time we provide the, with a solution.
To encourage this, I'd like to offer all new customers in September free delivery on their first order with us through an account manager.
To all existing customers (I haven't forgotten you!) I would like to offer delivery at 50% of usual cost if you quote the code "servingyou0917"

Have a great month and we'll speak more sales soon!