Supermicro SuperBlade - Cost Effective Blade Solutions from Server Case UK
Blade Servers – They're not as expensive or as complex as you might think – Especially from Supermicro!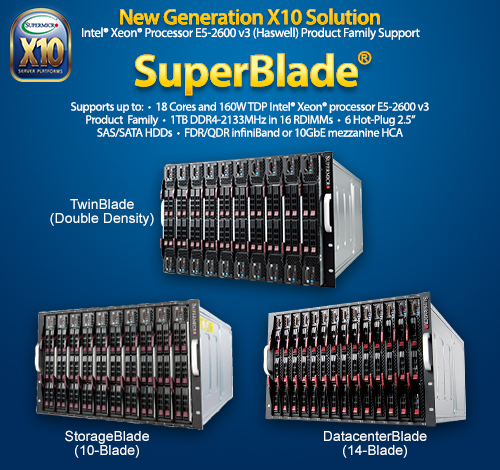 You've all seen the offerings from DELL and HP – They're incredibly versatile and have loads of options and configuration upgrades. DELL and HP have excellent offerings, and are intended primarily for enterprise customers – You wouldn't get much change from a £30k budget.

Enter Supermicro – Their blade solutions are simple, but very versatile. What's better though is the price – It doesn't break the bank, and is a fraction of the cost of a DELL or HP equivalent – literally.

Supermicro offers 3 different main SuperBlade models in their universal chassis.
TwinBlade
This option allows for up to 20 blades in single enclosures. There are 10 columns, and traditionally this would have a single blade – From Supermicro you can install 2 blades – so in only 7U you can install 14 servers.

StorageBlade
This is a 10 blade server, using the same chassis as the TwinBlade, but is primarily designed for storage. Each blade can have up to 6x 2.5" hot-swap drive bays.

DatacenterBlade
This system is datacentre optimised, and has 14 blade capacity for super rack dense environments.

For more information on the SuperBlade enclosures please visit; http://www.supermicro.nl/products/SuperBlade/enclosure/


In addition to the various enclosures the SuperBlade has various different Intel and AMD blades;




If you would like to discuss your blade server requirements please call our dedicated technical sales team on 0800 652 1649 or contact us.