The Need for Speed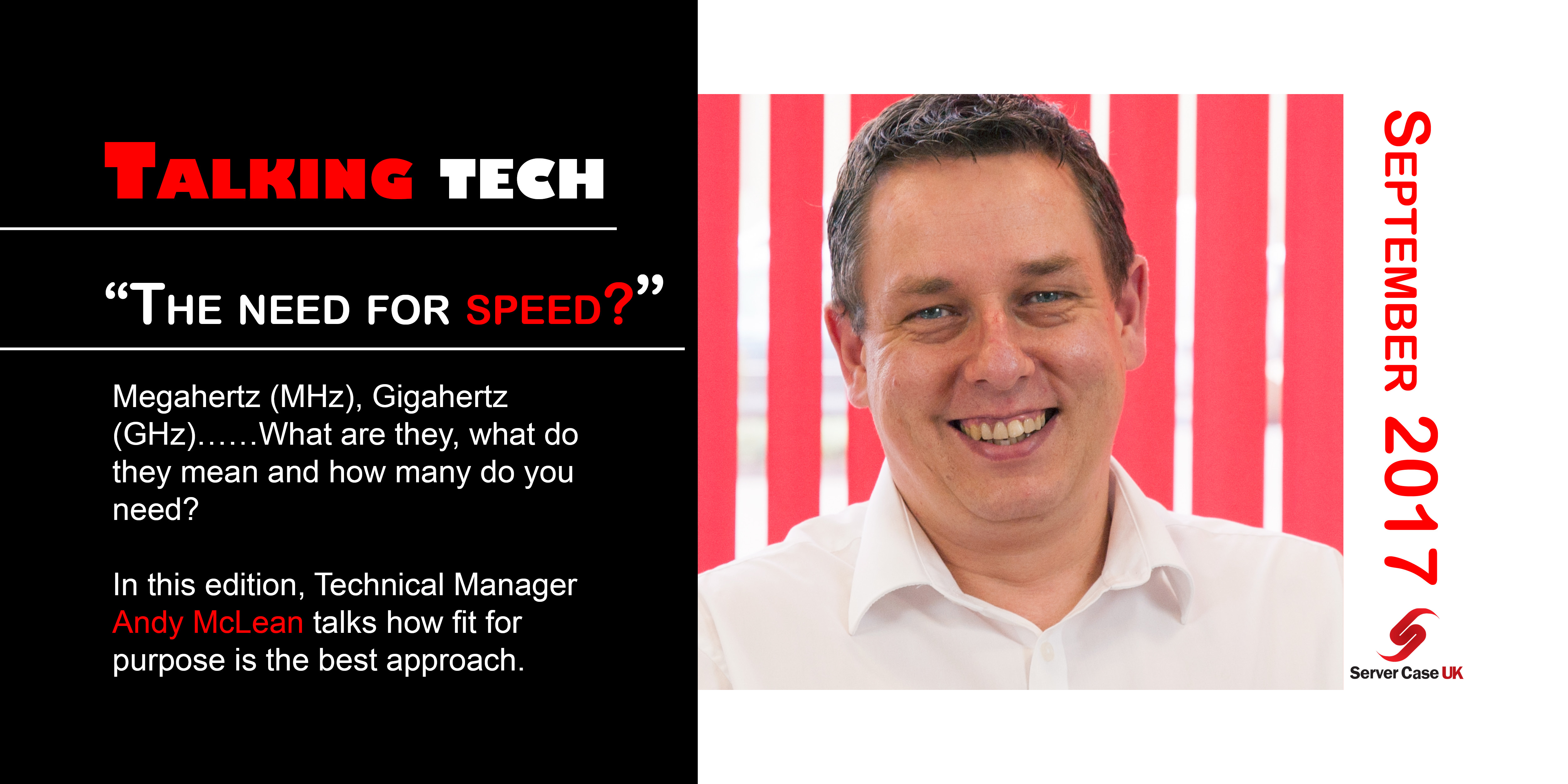 Megahertz (MHz), Gigahertz (GHz)……What are they, what do they mean and how many do you need?
It sounds complex and daunting if you are new to purchasing IT solutions but really it isn't, and a little knowledge will put you in a more confident position when looking for a new solution.
When procuring new equipment, knowing these numbers will go a long way to ensuring you buy the right tool for the job. You will also be comfortable knowing you are wringing every last potential drop of ROI from your investment whilst maintaining uptime and stability.
Put simply, CPU clock speed, or clock rate, is measured in Hertz — generally in gigahertz, or GHz. A CPU's clock speed rate is a measure of how many clock cycles a CPU can perform per second. For example, a CPU with a clock rate of 3.6 GHz can perform 3,600,000,000 clock cycles per second
So, more Hertz means faster, right?
Yes & No……. A CPU in a new computer billed as 2X faster than an old computer does not mean twice as much finished work gets done in the same time frame.
Internal cache design, bus speed, disk speed and network speed all contribute to the computer's actual processing speed and performance (the overall throughput)
Think of a 'Hertz' as a tick of the clock. Architectural advancements in CPU's generally mean that a newer CPU will get more work done per tick of the clock so YES, a new CPU should be faster than an old one EVEN IF you run them at the same speed, BUT other 'Bottlenecks' (or weak spots) in the components of the system do have a huge overall performance impact.
Techy guff aside, it really is brutally simple……ANY machine EVER built by humankind is/ was only as good/ fast/ powerful as the sum of its poorest/ slowest/ weakest parts.
Computers are no different AND we also have their task/ software to consider. As we discussed last time, it's no use having a 40 core 2.6GHz Xeon CPU when the work you are doing is single threaded software base that can ONLY EVER use one CPU core. In this example, your single threaded software would run almost twice as fast on a quad core CPU WITH THREE CORES DISABLED, leaving one core running at 4,6GHz.
Similarly, the parts selected to build the machine are absolutely critical. If you select a monster fast 20 core chip, it's no use speccing a single stick of 2GB RAM at a lowly speed of 2133mhz. A 'fat' bandwidth CPU needs a fat pile of fast RAM in dual or quad channel, ESPECIALLY if it's feeding 4 big GPU's with 11GB of their own RAM each.
On the flipside, you would be stark raving mad to pair 64GB of 3000MHz RAM on a basic motherboard with a dual core Celeron CPU as that CPU simply doesn't know what to do with that much RAM and isn't capable of running in sync with it's speed.
It's simply a case of a balanced set of components all 'singing' together harmoniously in terms of performance, compatibility and reliability.
It's this level of understanding of the whole computer ecosystem that enables us to tailor any system to your needs. We understand that everyone uses PC's, servers and workstations very differently and for a myriad of different tasks and software.
It's for this reason that, on our site, you won't see piles of 'Super sexy, GTi, Turbo, Go-Faster-Striped' machines covered in LED's and bleating about Gigahertz, Megahertz and overclocking.
We CAN do all of that if you like, but it's MUCH better for you if you give us a call on +44 (0) 1283 576162 and tell us exactly what you need your new machine for, what your upgrade plans are and what your performance and stability expectations are……then we'll be able to deliver a machine that will genuinely make a difference to your business with outstanding performance, bombproof stability, faster workflow and a rapid ROI.
Don't forget to follow us on Twitter, add us on Facebook, join our circle on Google +, talk to us on LinkedIn or watch us on YouTube