What is a SAS Expander - How can it help bring down the costs of a storage system
Traditionally, and it's still used today, a server with a hot-swap backplane would connect each individual drive, via a cable (or multiple cables) to a RAID or HBA controller card. If you had a 24 bay chassis, this would mean you would need a 24 port RAID or HBA controller. This gives full wire speed performance, but the cost of both the cabling and the RAID/HBA with 24 port connectivity is very expensive.
In comes chassis with a SAS Expander. What a SAS expander does is multiplexes all of the hot-swap channels to much fewer (many to few). Now, for a 24 bay chassis, you'd only need an 8 port RAID/HBA controller – a significant cost saving. This also means less cabling – usually only 2x cables would be needed now.
There's a few things to note though;
Price
A SAS expander backplane is more expensive than a non-expander backplane. That being said, because of the cost saving of the lesser priced RAID/HBA and fewer cables, there is still a cost saving overall.

SAS Expander Requirements
A SAS expander backplane will require a SAS controller – be that RAID or HBA. It cannot be connected directly to a motherboard. Most non-expander backplanes, using correct cabling (such as a Reverse Breakout) can actually connect directly to a motherboard. Even though the controller must be a SAS Controller, it will support SATA or SAS drives.

Hybrid
You can use a combination of SAS or SATA drives with an expander backplane – you're not limited to either or.

Performance
By nature of "multiplexing", this means that 24 bays may go down 8 ports of bandwidth. For most use cases this is absolutely fine. Remember that's 8x 12Gbps of SAS – which would total 96Gbps of bandwidth, which is shared across all 24 bays. That does mean that each drive could have, a maximum bandwidth for concurrent read/writes at 4Gbps. We've done extensive performance testing and have not come across any adverse performance issues. Remember, a SAS or SATA HDD whilst connected at 6Gbps or 12Gbps, cannot physically push enough data to saturate 4Gbps of theoretical bandwidth. The only instance this can become a problem is if using a SAS or SATA SSD. We are however seeing a shift from SAS or SATA SSDs for more the much faster NVMe U.2/U.3 form factor. SAS Expanders are not applicable here and all NVMe drives are always connected directly to a controller – be that a motherboard (usually the case), or to a controller card.
If you're not too sure the difference between a non-expander and SAS expander backplane I've listed two below.
Non-Expander Backplane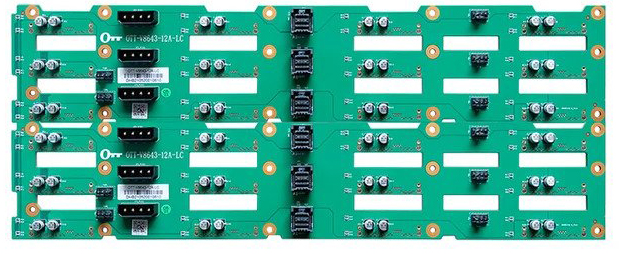 You can see that on this 24 bay backplane there are 6x individual 12Gbps MiniSAS HD connectors (each connector supports 4x drives).
SAS Expander Backplane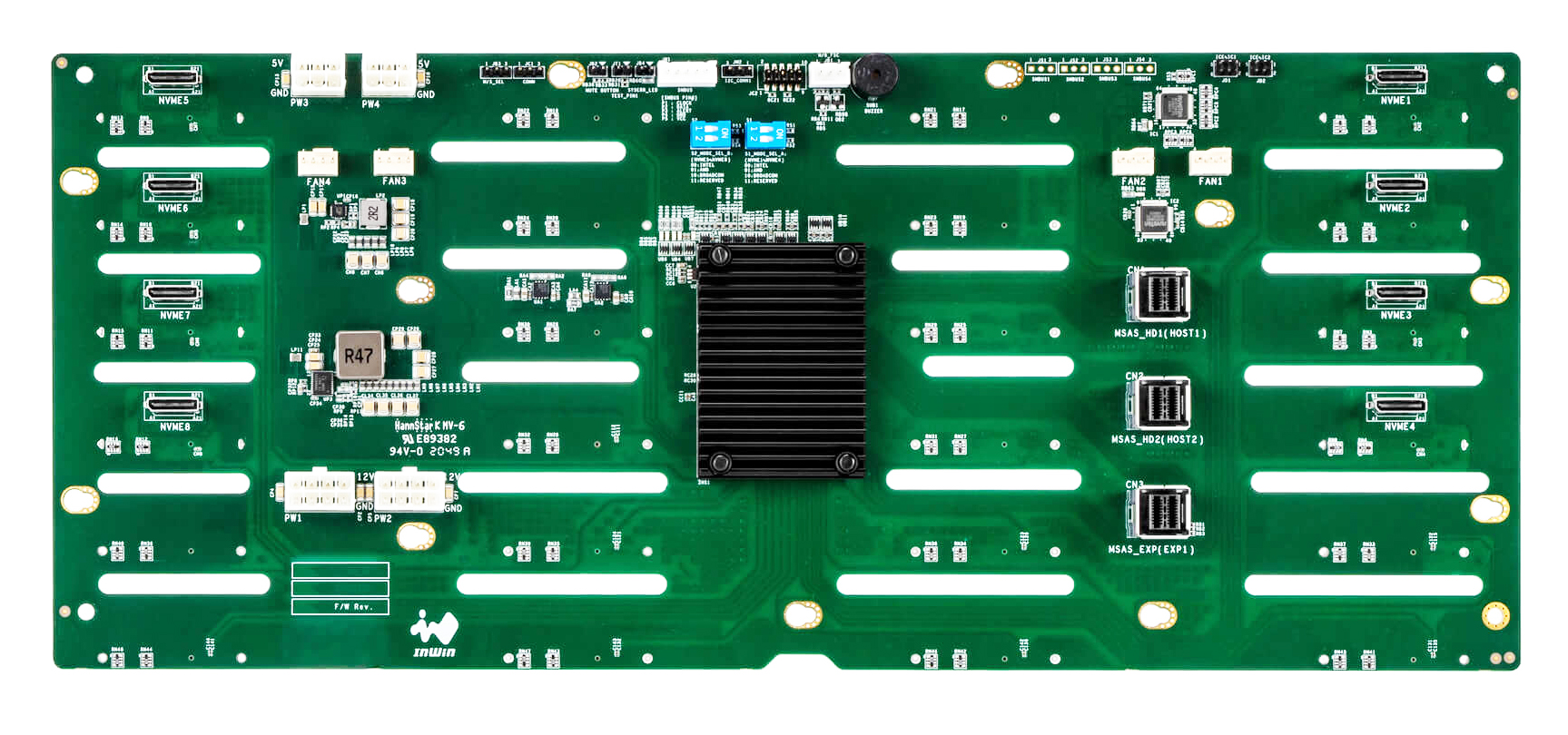 A dead give away is the large heatsink, which is the SAS Expander itself and handles all of the bandwidth/multiplexing. You will also see there are only 3x of the 12Gbps MiniSAS HD connectors – 2x "In" ports and 1x "Out" port.

The 2x "In" ports would connect by 2x cables to an 8 port controller card. The "Out" port allows daisy chaining to another expander – This is typically only used for connecting to an "external" port in the chassis so it can connect to a JBOD or similar.