AMD vs Intel - The War Continues!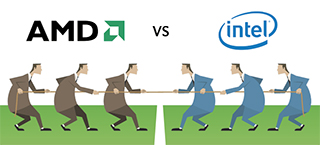 Buying a computer can be a lengthy process involving many complex decisions, but none come with quite as much jargon as figuring out the best CPU.

And so before you even know it, you're drowning in talk of cores and clock speeds, socket types and memory controllers, Bulldozers, Piledrivers and more.

While you'll need to consider at least some of these issues, there's an easier way to approach your purchasing problems. And that's to ignore the technical detail, just for the moment, and focus first on a more fundamental question: Intel vs AMD, which processors are the best for you?

You'll probably find that answering this is much more straightforward. And once you've made your choice, many other decisions about your new PC will fall into place, saving you plenty of time.

If you're after performance above else (and you can afford the price tag) then Intel processors are the way to go. At least, in general - there are several families available and you need to be careful which you choose.

You'll get the most speed from Intel's 6-core Sandy Bridge E processors, for instance.

If you're happy to stick with a regular desktop CPU, the more conventional choice would be to opt for one of Intel's new Ivy Bridge CPUs. They're the fastest mainstream processors around; power consumption has fallen, just a little; and the new HD 4000 integrated graphics chipset is up to 60% faster than the previous generation.