Choosing the Right Server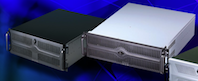 The inclusion of Servers in business in recent years has vastly improved efficiency and well as aided with saving money
Choosing the best option for you can be daunting and confusing, especially with the amount of options available. There are a number of considerations that have to be taken into account before you decide:
What will your Server be used for?
These days there are many uses in business for a Server. These are just some of the most popular:
Databasing
File Sharing
Printer Sharing
Web Space
Game Servers
Application Servers
Probably the most common from those above is File Sharing, whereby a Main Server Machine is located in the office and holds all the Local Files, which all of the other office computers can access through a Network Drive. Files are downloadable from the Main Server to each of the other machines but, very often, not editable unless permissions are set to allow for this.
Will your Server be On-Site or Cloud-Based?
When Servers first began to become popular in business, almost all of them would have been on-site. An On-Site Server consists of a Physical Metal Chassis housing all the components of the Server such as Mainboard, Ram, Storage etc… The obvious disadvantage of this is the amount of room required on-site to house the Server. Meaning that the obvious advantage of a Cloud Based service is that the physical machine is elsewhere and your office connects to it via the internet. Probably the only disadvantage of this is that the cloud services would be offered by outside organisations who would charge a fee
Will your Server require Remote Connectivity?
Many servers, even with today's enhanced Wifi Technology, use RJ45 Ethernet Hard Wire connectivity….simply because this gives, and always will give, the user the fastest and most reliable connection. However, there are certain situations whereby this is not a viable option, such as if your Server is Cloud-Based or is physically too far away from your office that you would need substantially long ethernet cabling. Therefore, remote connectivity is required.
Probably the only potential issue to be aware of here is the strength and reliability of your internet (Wifi) connection. The best way to ensure you have a reliable connection is to shop around and research which organisations offer the best options in Hardware (Router).
Will your Server require Storage Space for Backups?
Probably the most common use for Server technology in recent years is to allow multiple computers on a Network to access large amounts of stored data. Common Chassis sizes range from 1U to 4U, each offering different numbers of Drive Bays for different levels of storage
Throughout the range available (1U - 4U) there are options available to cater for anywhere from 4 to 36 Bays (24 Hot-Swap and 12 Static), each holding a 3.5" HDD with a capacity of up to 4TB. This allows for up to 144TB of storage. Some Chassis also offer space for 2.5" HDD and even SSDs for Operating Systems, if required.
How much physical space do you have to house your Server?
As mentioned above, Chassis commonly come in 4 sizes (1U - 4U) with 1U being the smallest and 4U the largest. Typically all Rackmount Chassis are either 19 or 23 inches wide as these are the standard Rackmount Cabinet widths. A 1U Rackmount Chassis would typically be 1.75 inches high, 2U would be 3.5 inches high, 3U would be 5.25 inches high and 4U would be 7 inches high. Of course, these measurements only need to be taken into account if you plan to house your server in a Rackmount Cabinet.
Other form factors with regards to Chassis dimensions should be considered when purchasing non-rackmount machines, such as NAS. A typical NAS enclosure, for example, is housed in a stand-alone Chassis, rather than Rackmount, and is a much more compact design.
In Summary...
What will your Server mainly be used for?
Will your Server be On-Site or Cloud Based?
Will your Server need remote connectivity?
Will your server require space for backups?
How much Physical Space do you have to house your Server? (on-site only)