Gigabyte Server Motherboards and Barebones from Server Case UK
Server Case UK has been working closely with Gigabyte in a collaborative partnership. We have been introducing the new Gigabyte range of Server Motherboards and Barebone solutions to our UK and European customer base, and also validating our Logic Case chassis for use with Gigabyte motherboards.
Currently we are able to offer the full range of current Gigabyte motherboard and barebone server solutions, and the following models are available to purchase from us;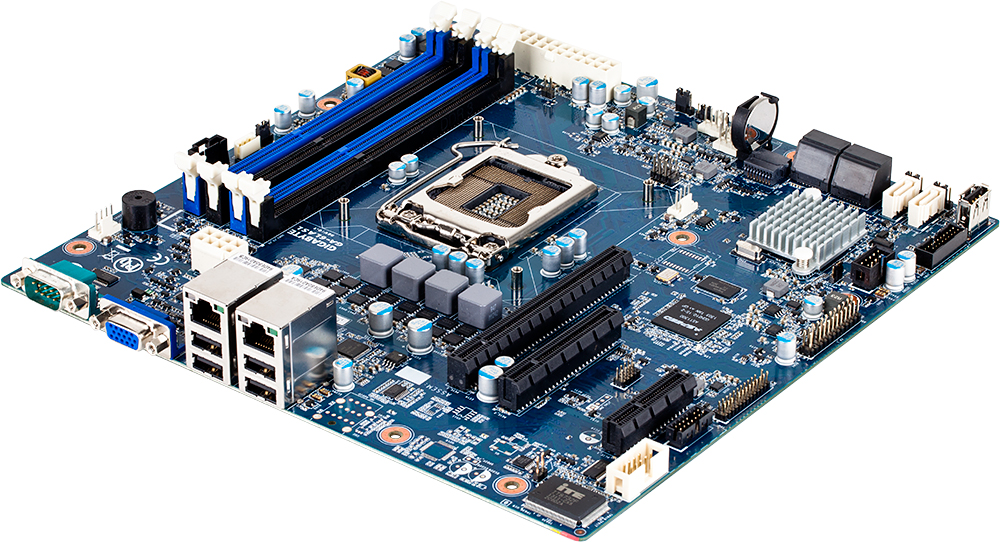 This is a superb Micro ATX motherboard, suitable for a single i3 (4th Gen) CPU, or Intel Xeon E3-1200 Series V3 (Haswell). It includes 4x DIMM slots for up to 32GB ECC Unbuffered RAM support, 6Gbps SATA, Dual Gigabit LAN onboard. This is a suitable alternative to the Supermicro X10SLL motherboard range.


Gigabyte GA-6LISL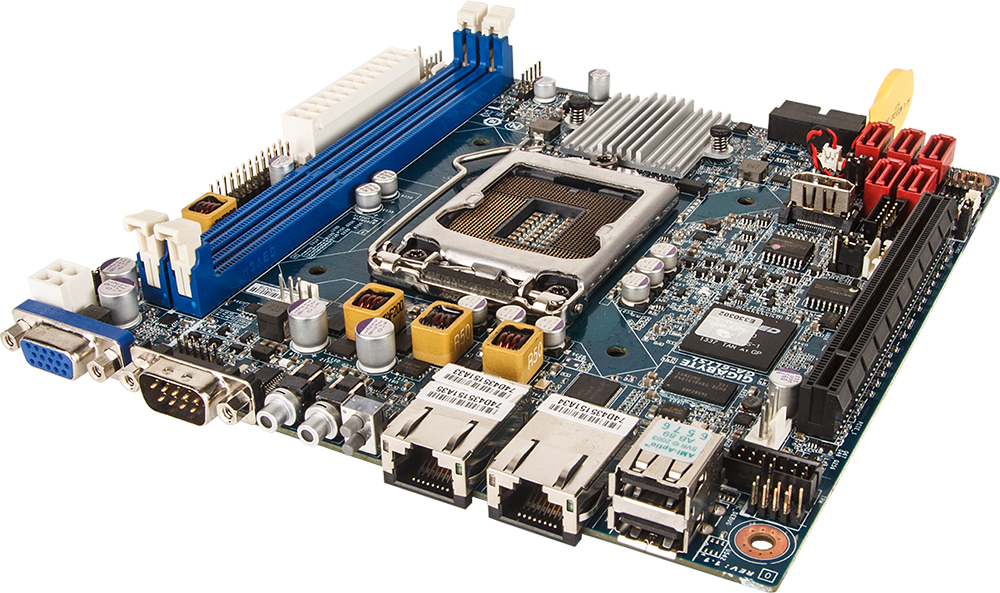 This is a feature packed Mini ITX motherboard, designed for a single i3 (4th Gen) or Intel Xeon E3-1200 Series V3 (Haswell) CPU. It has 2x DIMM slots, supporting 2x 16GB Modules maximum, for up to 32GB on the board itself. It also has Dual Gigabit LAN and 5x SATA ports, so makes it an attractive option for a small sized NAS or office server. In addition, this small board also has onboard IPMI remote access, shared with one of the Gigabit NIC's – This allows remote KVM and monitoring/status of the motherboard, even while the OS has crashed or the board powered-down (Just needs mains input from a PSU). This is a suitable alternative to the Supermicro X10SLV motherboard.



Gigabyte MW50-SV0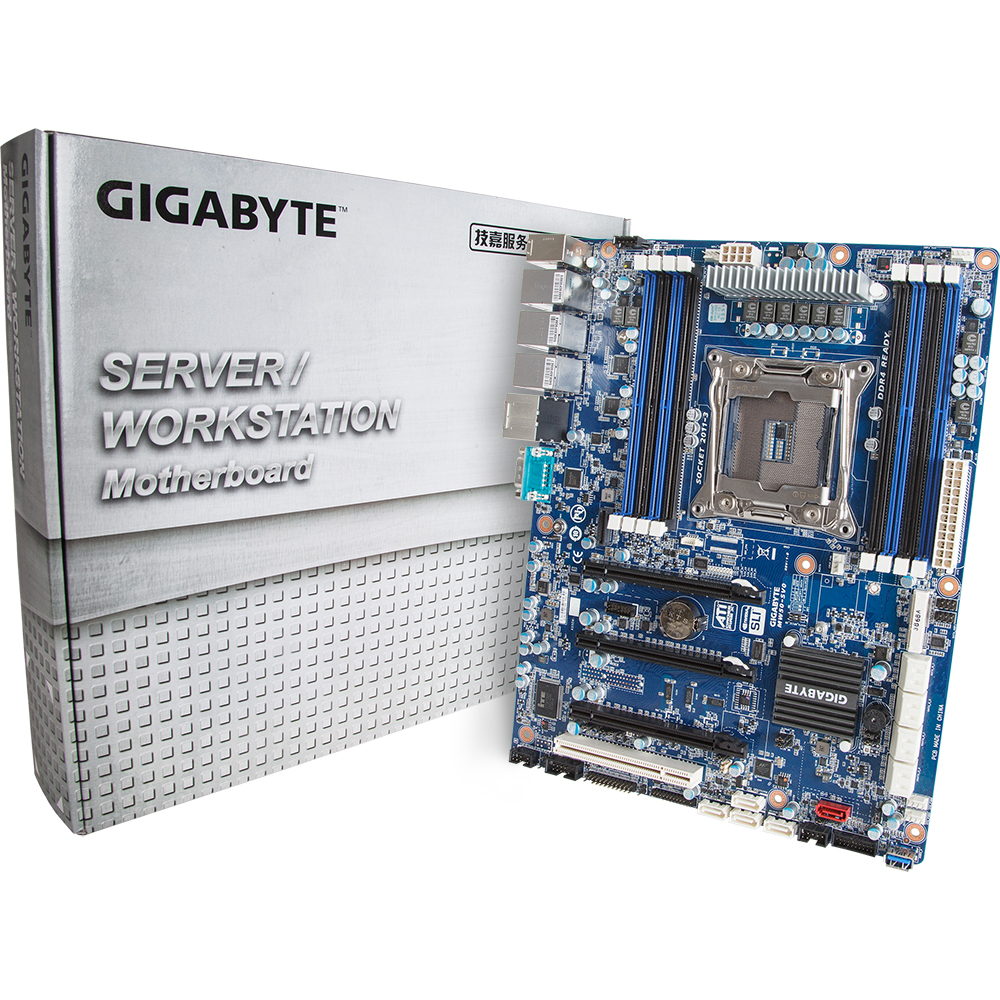 This is a popular single socket 2011-3 workstation/server board, in standard ATX (EEB) form factor for a single E5-Xeon 1600/2600 V3 CPU. This board is designed for workstation use, so has 3x 16x PCIe slots for GPU or graphics cards in an SLI/Crossfire type setup. Onboard the motherboard has digital and analogue audio, 3x Gigabit LAN ports, USB 2.0 and USB 3.0 for expansion. There are also 8x SATA 6Gbps ports give this board excellent storage potential too. The board has 8x DIMM slots, supporting DDR4 RAM – with potential support for 64GB DIMM's bringing the boards capacity to an incredible 512GB RAM support.



Gigabyte MU70-SU0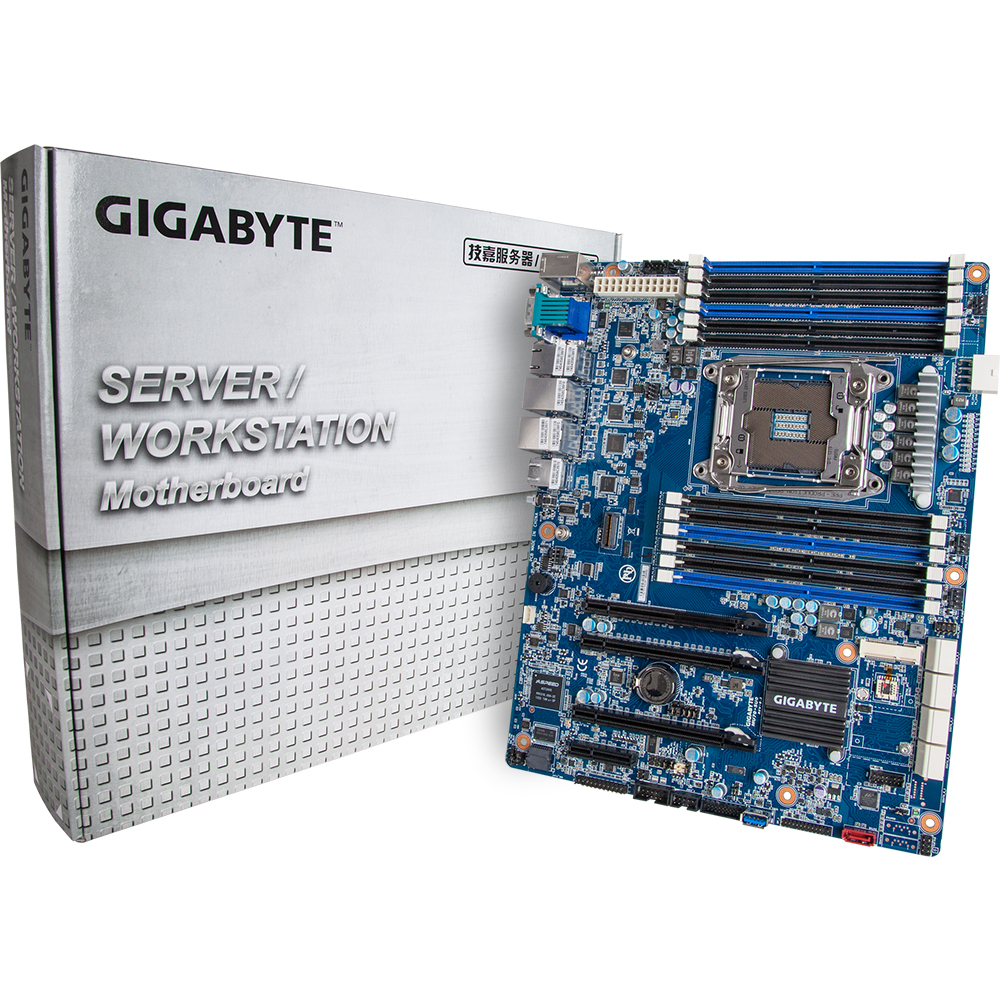 This is a popular single socket 2011-3 server board in standard ATX (EEB) form factor, for a single E5-Xeon 1600/2600 V3 CPU. It is a pure server motherboard, so unlike the MW50-SV0, it does not have audio onboard. Insead, it has onboard video, support for 10GbE expansion, Quad Gigabit LAN onboard, multiple PCIe slots for RAID/HBA controllers, mSATA port (useful for a small OS/Hypervisor). It also has 12x DIMM slots, which populated with future-available 64GB DDR4 DIMM's could allow up to 768GB RAM – which would be superb for a virtualised platform where large amounts of RAM is needed.
Gigabyte MD30-RS0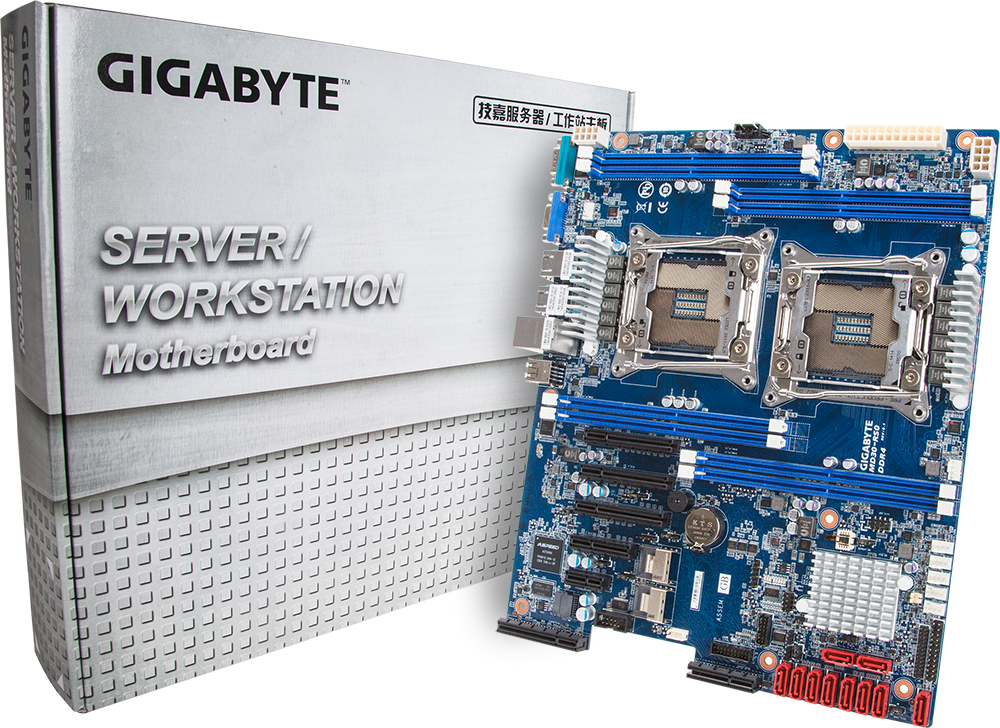 This motherboard crams in a huge amount of features into a standard ATX (EEB) size board. It's one of the few on the market with so many features. It has support for 2x Socket 2011-3 E5-Xeon 1600/2600 V3 Series CPU's, 512GB RAM Support (8x DDR4 DIMM Slots), Dual Intel Gigabit LAN, Remote IPMI KVM, 10x SATA-3 6Gbps Ports and 8-Port SAS Controller (using 6Gbps MiniSAS 8087 connections). It is an ideal board for high end computing requirements such as virtualisation, rendering etc, where CPU power is essential.
In addition to the sale of Gigabyte components, we are validating the following Logic Case chassis with Gigabyte. They currently have our Logic Case chassis and will shortly be receiving validation. Once this has been completed Gigabyte will be actively promoting our chassis in connection with their motherboards – A superb marriage of quality chassis and motherboard and will bring a new level of added value to the UK and European markets.



Logic Case SC-13250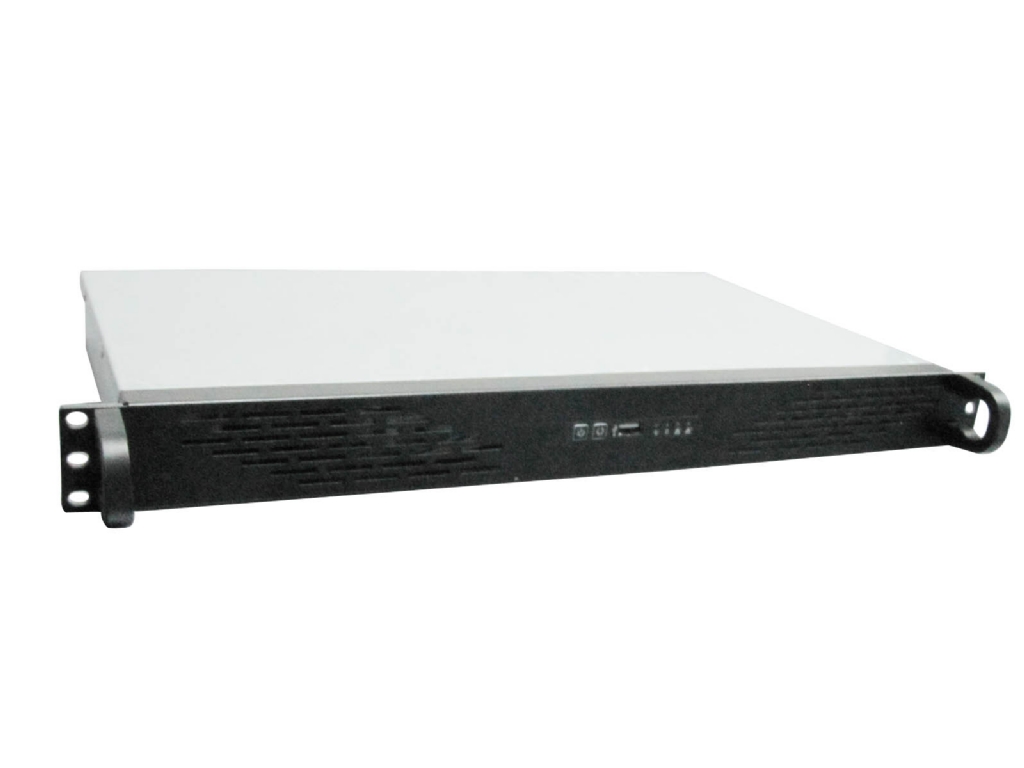 This chassis is a superb super short-depth 1U Rackmount and is only 250mm deep. At this depth it is ideal for appliance type systems, such as firewalls, voice recording/monitoring systems, routers and other general purpose light-weight systems that go into a small wall mount rack cabinet. The chassis themselves are of an attractive design, lightweight and easy to maintain.

Internally we will be promoting this chassis with the Gigabyte GA-6LISL, which is a superb Intel E3-1200 V3 Xeon or i3 (4th Gen Haswell) CPU board, support for up to 32GB RAM, Dual Onboard Gigabit LAN and excellent remote management features through its built in IPMI remote KVM feature.



Logic Case SC-13400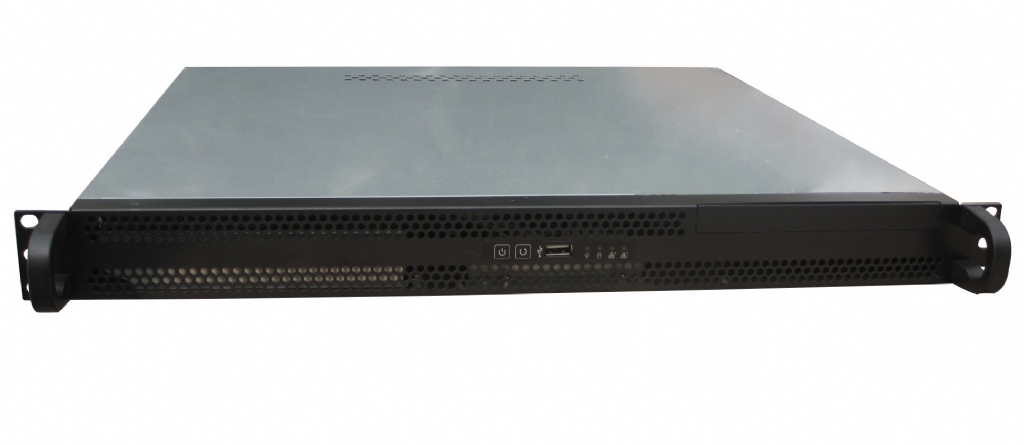 This chassis is a short depth, single or dual redundant PSU compatible 1U chassis. It will accept a wide range of motherboards, from Mini ITX, Micro ATX and Standard ATX (CEB 10.5" X 12"). It has excellent internal airflow, PCI riser support and accepts up to 2x 2.5" SSD/HDD and 2x 3.5" HDD's – Fixed internally. The chassis accepts a wide range of PSU options too, including a high efficiency Flex ATX PSU for low power requirements, standard 1U size as well as dual redundant 1U for mission critical applications.

We are promoting this chassis with the Gigabyte GA-6LASL, which is a fantastic Micro ATX server motherboard for Intel Xeon E3-1200 V3 or Intel Core i3 (4th Gen/Haswell) CPU. It also supports up to 32GB of ECC Unbuffered RAM over 4 slots. The board also has dual gigabit LAN and VGA video onboard.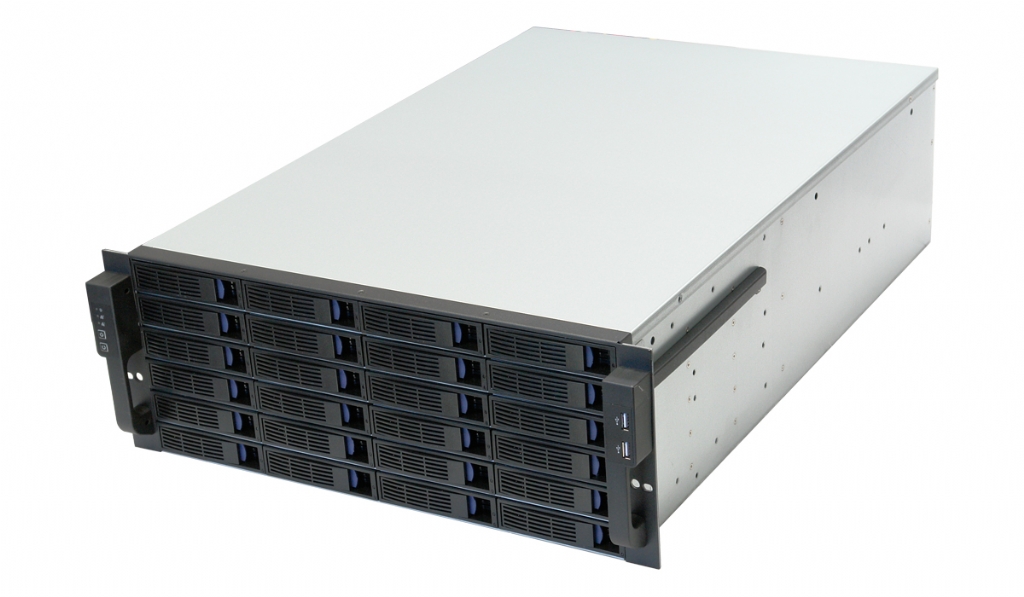 The Logic Case SC-4324 is a 4U rackmount storage chassis. It has 24x fully hot-swap SATA and SAS drive bays – running at 6Gbps, but backwards compatible. Each drive bay accepts a standard 3.5" or 2.5" Hard Drive/SSD.

Internally the chassis has a hot-swap centre fan wall, rear 80mm fans, support for all standard ATX form factors, including EEB (12x13") and smaller boards. The chassis also has very flexible PSU options, and includes a range of PSU brackets for use with standard ATX PSU's (80mm and 120/140mm fans), Mini Redundant, 3U Redundant and 2U Redundant PSU's (Please contact us for specific compatibility of redundant PSU's).

Up to 2x SSD's can also be installed on a fixed bracket, which is installed within the chassis as standard. This is ideal for the OS SSD's for a system – keeping the 24x hot-swap drive bays spare for storage only. This makes the system ideal for a virtualised system with the likes of vmware and Microsoft Hyper-V – as the OS/Hypervisor can be installed on the fixed internal drives, allowing the hot-swap data drives for use with the storage pools/datastores.

The full range of Gigabyte Server Motherboards will be compatible with this chassis, from the smallest Mini ITX up to their full size dual CPU E5-Xeon V3 boards.



Final Approval

Once we have had the stamp of approval from Gigabyte on our models we will publish a new article – which will be very soon so watch this space!



If you would like to discuss your Gigabyte motherboard and server requirements please contact us and our team would be happy to help.