Intel Haswell launched with huge boost to graphics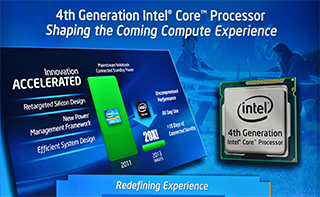 Intel has launched its first batch of Haswell processors, which deliver a significant boost to graphics performance according to PC Pro benchmarks.

Haswell - officially known as 4th Generation Intel Core - is the successor to Ivy Bridge (3rd Generation Core processor). Haswell is a new architecture that's built on the same 22nm process as Ivy Bridge.

PC Pro benchmark results on the first Haswell desktop processor - the Core i7-4770K - show significant performance improvements over the last generation chips, especially when it comes to graphics.

The Core i7-4770K showed an overall improvement of almost 10% in their Real World Benchmarks, scoring 1.16 compared to 1.06 for the last-generation Ivy Bridge i7-3770K.

However, the real performance boost comes with the integrated graphics, delivering a 58% improvement over its Ivy Bridge equivalent. The Core i7-4770K recorded a playable 38fps at Medium quality settings in Crysis, compared to 24fps for the i7-3770K.

Graphics performance is set to improve further still with the forthcoming i7-4770R model, which will include the Iris Pro GPU, which contains more graphics execution units and 128MB of embedded dynamic RAM inside the CPU package, capable of serving as an extension to the CPU cache – or as a high-speed video buffer.

Check back soon and we will have the full range of Haswell CPU's available ti buy online.