Introducing Supermicro EVO:RAIL Solutions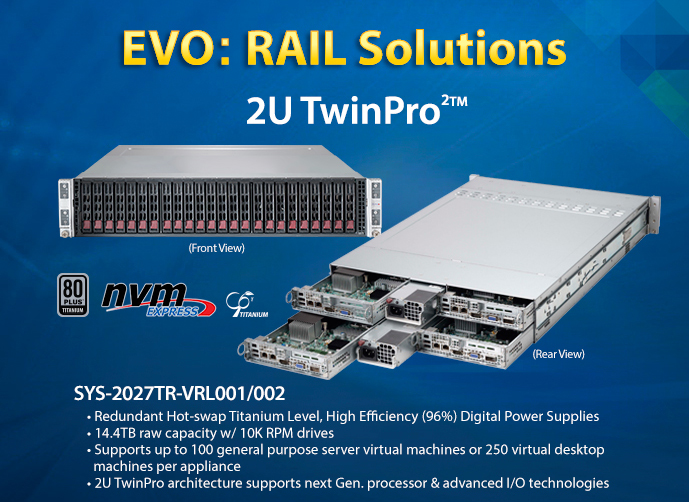 We've been introduced to a very interesting new product from Supermicro that's been added to their virtualisation appliance portfolio.
They have brought out a quad node system in 2U, that is to be marketed as a virtual server system in a box.
Basically, the system has 4x E5-Xeon Dual CPU nodes in a 2U Rackmount chassis and supports 24x 2.5" Hard Drives. Each node supports up to 192GB of RAM and dual E5-Xeon V2 CPU's. Each node is also hot-swap and due to the design of the system it would be possible to remove one or two nodes and the full vmware cluster would remain functioning with minimal or zero downtime (depending on the vMotion and DRS configuration used).
The storage on this is proposed to be made up of up to 24x HDD's (SAS), split over the 4 nodes (so 6 drives per node). Using vmware vSAN software this would mean all 4 nodes would act as a clustered and high availability shared storage for the hypervisors.

Supermicro's vision with this product is to create an all in one product, which has both ESXi hypervisor and virtual SAN infrastructure in a single appliance. This is a super offering that would be great for smaller businesses.
Previously a configuration of this type would be 4x separate physical servers and then an individual shared storage SAN – Not any more as it's possible to have this all in one box, at a much lower cost than the individual, traditional solution.

This product isn't available at present, however we will post when this does become available.
In the mean-time, please have a read about the specifications of the system on the Supermicro website here; http://supermicro.nl/solutions/EVO_RAIL.cfm
We've also come across an excellent blog post by an independent technology expert here; http://www.yellow-bricks.com/2014/08/25/introducing-vmware-evo-rail-new-hyper-converged-offering/?utm_content=buffer1ae3d&utm_medium=social&utm_source=linkedin.com&utm_campaign=buffer
If you would like to discuss vmware or Supermicro solutions, or this particular product in more detail please call our technical sales team on 0800 652 1649 or contact us.