Introducing the World's first 3D Vertical NAND - Samsung SSD 850 PRO
What is V-NAND and how does it differ from existing technology?

Samsung's flash memory is fabricated using an innovative 3D V-NAND architecture, which stacks 32 cell layers on top of one another rather than trying to decrease the cells' length and width to fit today's shrinking form factors. The result is higher density and higher performance using a smaller footprint and a breakthrough in overcoming the density limits of conventional planar NAND architecture.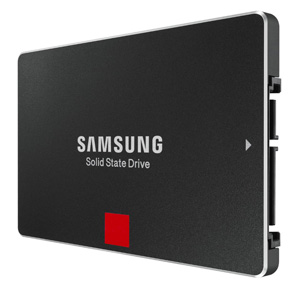 Samsung 850 PRO SSD
Powered by Samsung's cutting-edge 3D V-NAND technology, the brand new 850 PRO is built to handle 150 Terabytes which equates to 40GB of daily data use- over a 10 year period!
Up to 550MB/s Sequential Read Speed
Up to 520 MB/s Sequential Write Speed
Available in 128GB, 256GB, 512GB, 1TB
PART CODES:
MZ-7KE128BW - 128GB
MZ-7KE256BW - 256GB
MZ-7KE512BW - 512GB
MZ-7KE1T0BW - 1TB


If you would like to discuss your SSD or Data Storage requirements please call our dedicated technical sales team on 0800 652 1649 or contact us.