Mini FreeNAS Desktop System from Server Case UK
Server Case UK has been assembling server systems since 2006, and we've worked with lots of software and hardware solutions – mainly creating custom solutions.
We've recently been working a lot with the FreeNAS software. It's a superb software package, free to download online, and has an excellent plugin library that offers pretty much everything you would need for a home or small office NAS solution.
FreeNAS is a non-commercial product, and is not supported for commercial use, so intended for home users. That being said though, we know a lot of customers who use FreeNAS for business and would still recommend it for a non-critical environment.
FreeNAS is based on FreeBSD, a Unix operating system that's been around for many years. It's FreeBSD base however is very cut-down and all unnecessary components remove, and the Kernel refined for use as a NAS system. The FreeBSD operating system also offers a very reliable platform for this type of product too, and this software OS is frequently used on other popular NAS devices such as Synology, QNAP and Thecus.
On top of the FreeBSD OS, ixSystems, the creators of FreeNAS, have created a web-based GUI interface, which has undergone years of development. This GUI ties in various features of the OS which make up the NAS solution, such as the ZFS file system, file sharing daemons (such as Samba for Windows/CIFS shares).
The FreeNAS web interface has undergone years of development by ixSystems, and is now one of the best interfaces around for easy web based NAS management. It works on all standard desktop browsers, but will also function on a mobile device's web browser. The interface is fast, intuitive and easy to use. A novice user of a NAS device can easily setup a NAS system with this software – it's wizard setup for most areas makes it easy to use, but the advanced elements allow for significantly greater control than other products on the market such as QNAP, Synology etc.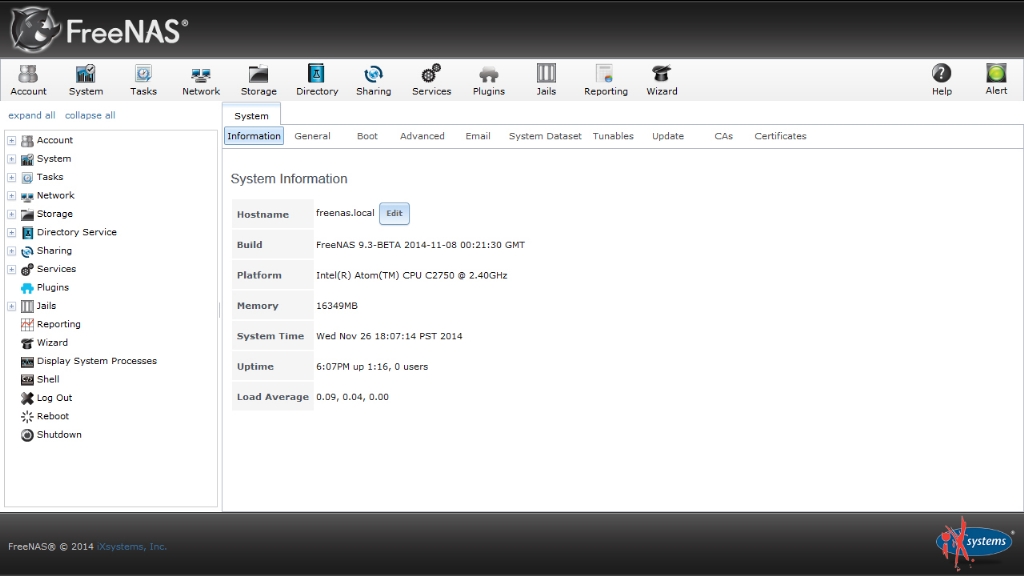 We can offer custom built NAS solutions for home or business, using FreeNAS and have successfully built and deployed many server systems for our customers – from small desktop mini systems through to large 45 bay Rackmount monsters in a RSYNC replication environment.
FreeNAS is free to download from www.freenas.org – If you want to get started with this you can install it on pretty much any modern PC capable with a 64bit compatible CPU – so anything from Core 2 Duo upwards, or various AMD CPU's.
FreeNAS recommend 1GB of RAM per 1TB of storage you setup, although this is not critical and using less will not hinder the performance for the majority of users. A dual core or higher CPU is also recommended. FreeNAS supports many NIC cards, and we've had the best success with Intel NIC's, so we would recommend an onboard or add-on Intel based NIC. We've not come across a SATA controller which isn't supported, so pretty much any add-on or SATA controller should work.
The only important thing to remember is that FreeNAS must be installed on to a USB key, or a small SATADOM. The OS cannot share a drive with storage and will use the entire drive for it's OS – so if you plan on using a 1TB HDD for FreeNAS then this will be a waste, as the OS only uses around 2GB of space. We have had good success with the Kingston range of USB drives.


Desktop FreeNAS System - 4x 3.5" Hot-Swap Micro System


We've put together an excellent Mini FreeNAS desktop product, available to buy as a turnkey solution from us.
This product is based on our popular Logic Case ITX chassis, which is very quiet in operation and has 4x SATA 6Gbps hot-swap bays – compatible with both 2.5" and 3.5" HDD's without the need for any brackets. The case itself has a really nice look and feel, with an attractive design. The front door protects the installed drive bays and has a mesh design, so activity lights can be easily viewed. The front door is also lockable.
Installed within this product is a 320W 80plus low-noise PSU.
The whole system is based on a Supermicro X10SBA server motherboard. This has an embedded Intel Quad Core Celeron CPU and 8GB RAM. The board also has Dual Gigabit LAN onboard. USB 2.0 and USB 3.0 onboard allows for easy expansion for backup USB drives, such as USB flash drives or offsite backup hard drives.
Please have a look at our FreeNAS offering. This is a pre-assembled system, with FreeNAS fully installed. All you need to do is install your hard drives – these can be spare drives you have or new ones – We can also supply hard drives and have linked in Western Digital Red drives in the Compatible Products part.
To view our product please click on the link below;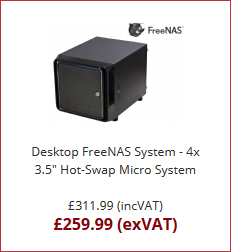 If you would like to discuss your FreeNAS requirements – Please contact us and our team would be happy to work with you.