Nebula Builds a Cloud Computer for the Masses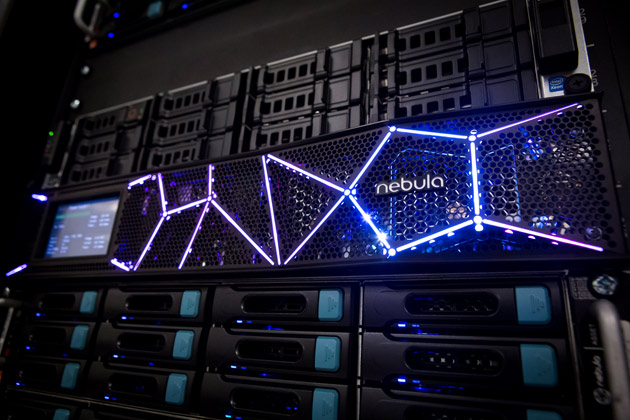 For his sixth-grade science fair project, Chris Kemp put together a cold fusion kit. In seventh grade, he built a particle accelerator, using a 300,000-volt generator and a vacuum tube. His teachers thought his dad had helped; neither project won first place. "I pretty much wrote off science at that point," says the 35-year-old Kemp, who eventually returned to it with a focus on computers. While his latest project still may not win any grade-school science fair prizes, it'll probably change the nature of cloud computing.

Kemp has built a device called the Nebula One, a computer that functions as a command-and-control system for dozens of traditional servers, essentially tethering them together and consolidating their power into one machine. By plugging servers made by Dell (DELL) or Hewlett-Packard (HPQ) or IBM (IBM) into the Nebula One, a single person, as opposed to dozens, can control them simply by clicking a mouse around a software console. For about $100,000, any company can buy a Nebula One and have the same cutting-edge cloud computing power as Amazon.com (AMZN), Google (GOOG), or Microsoft (MSFT).

Though it doesn't look like much, (about the size of a four-inch-tall pizza box) Nebula One is the product of dozens of engineers working for two years in secrecyin Mountain View, Calif. It has attracted the attention of some of Silicon Valley's top investors. The three billionaires who made the first investment in Google—Andy Bechtolsheim, David Cheriton, and Ram Shriram—joined forces again to back Nebula One, betting that its technology will invite a dramatic shift in corporate computing that outflanks the titans of the industry. "This is an example of where traditional technology companies have failed the market," says Bechtolsheim, a co-founder of Sun Microsystems (ORCL) and famed hardware engineer. Kleiner Perkins Caulfield & Byers, Comcast Ventures, and Highland Capital Partners have also backed Kemp's start-up, itself called Nebula, which has raised more than $30 million.

The origins of Nebula One go back to Kemp's days at NASA, which he joined in 2006 as director of strategic business development. In 2007, he became a chief information officer, making him, at 29, the youngest senior executive in the U.S. government. In 2010, he became NASA's chief technology officer. Kemp spent much his time at NASA developing more efficient data centres for the agency's various computing efforts. He and a team of engineers built the early parts of what is now known as OpenStack, software that makes it possible to control an entire data centre as one computer.