Rack or Tower Server - Which do I choose?
The headline says it all – You are in the market for a server, whether you are upgrading an existing unit, or a complete new installation for yourself or one of your clients – But you're unsure to go with a Rack or a Tower Server.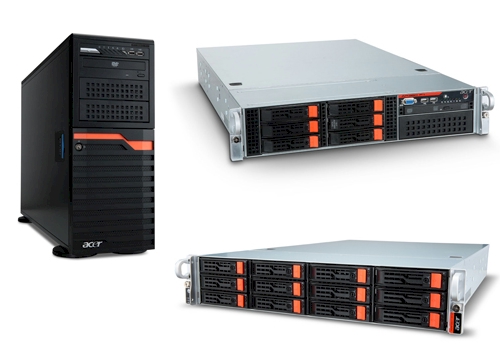 The decision entirely comes down to the exact needs of the system and it's envisaged environment. However there are a few other things to consider;
If you go for a tower model, will it always be installed in a tower configuration, or would there likely be the introduction of a rack server cabinet in the future for additional systems?


Security – A rack cabinet can be easily locked, and typically have secure locked sides as well as a front and rear door. With a cabinet you can keep our prying fingers and ensure cables aren't tampered with, or the servers themselves tampered with. With a free-standing, tower server it is freely open for anyone to remove drives, unplug cables, or even take away the entire system altogether. Many tower server models come with a lockable front door, but this won't deter theft of the actual system. If you rack-mount a server it would likely be bolted into the cabinet, or installed on rails so would be more time consuming for someone to steal.


Expansion – A tower server can house the same size of motherboard as a rack model, as well as have options for redundant PSU, same amount of expansion cards, and in some cases the same degree of cooling. However a rack chassis typically will have a smaller amount of internal disk expansion. Some tower models can have a lot of fixed internal drives, but this is sometimes inflexible for customer when non-technical people need to replace drives, or install new drives. Many rack server cases have hot-swap bays.


Noise level – A tower server is generally quieter than a rack server. A tower server is designed for installation in an office, next to or by workers – they don't want a loud machine running next to them – this is distracting and will reduce productivity of everyone in ear-shot. A rack server is generally louder, due to different internal configurations of fans, PSU's etc, so will usually require installation in a rack cabinet in a different room, away from workers.
If you're unsure what to go for, or need any help discussing your requirements please call our dedicated technical sales team on 0800 652 1649 or contact us. Our technical team would be happy to help!