Rackmount versus Tower - Which should I choose?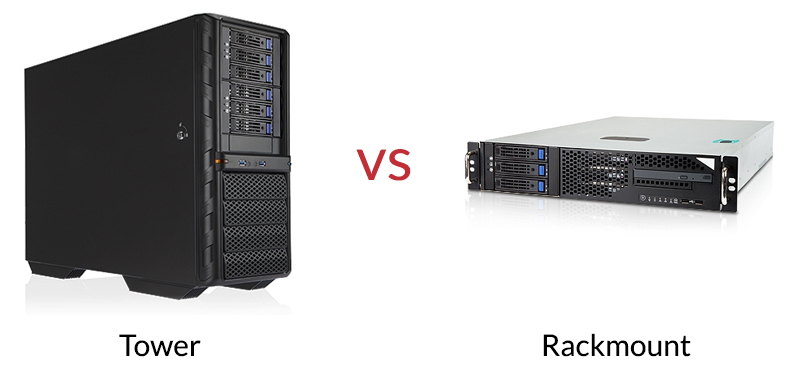 Server Case UK is a worldwide distributor, retailer and system specialist for a wide range of rackmount and tower server components.
We're frequently asked by our customers that type of chassis to go for – as some just aren't sure if they need a rackmount or a tower case for their server.

Sometimes the decision is very simple – They may already have a server cabinet, in which case if they have spare space then go for a rackmount chassis. Others though may have a full rack cabinet, or perhaps are in a smaller office where they don't have a dedicated server room or space for servers and may just need a tower case to go under a desk.

There's also an argument that rackmount chassis are noisier than tower. This is often true as to effectively cool a rackmount chassis you generally need more fans and that these fans run at a higher speed to achieve the necessary cooling. Generally rack servers would be situated in their own room out of earshot.

That's not to say though that rack cases can be quiet – The smaller (thinner) a rack case the noisier it will be, as you need smaller, higher pitched fans to push more air. This is usually the case for a 1U Rackmount case. You could achieve the same level of quiet operation as a tower case in a 4U Rackmount, for example.

Something else to consider about a tower or rackmount chassis is what you want out of future expansion. Many tower cases have a lot of internal room, but many don't have space for many hard drives, due to their vertical orientation. This may limit your future expansion desires and may decide indeed a rackmount case is better as you can have many more hard drives installed.

We supply both rackmount and tower cases from many brands, including In-Win, Logic Case, Supermicro, Chenbro and PCI Case. Each of these different brands excels at different models which have their own features. We have hundreds of chassis to choose from and it can be a minefield if you're unsure exactly what you need or want.

We can work with you to put together a full spec and the right system for your requirements – Please contact us and our team would be happy to work with you.