Single versus Redundant PSU - Which should I choose?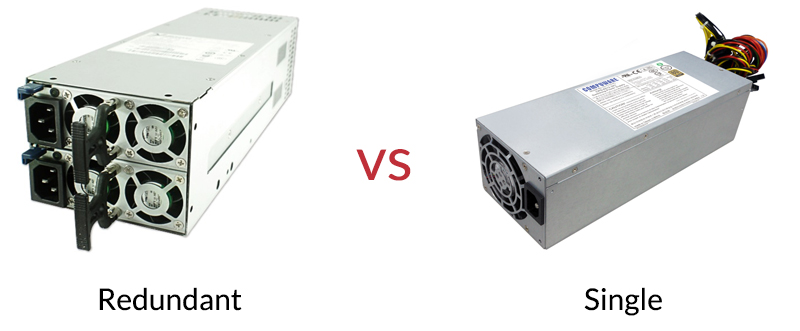 Server Case UK is a worldwide distributor, retailer and system specialist for a wide range of rackmount and tower server components.
Which should I choose – Redundant or Single PSU?
There's just a few simple questions to ask yourself that will help you choose;
Budget
A redundant PSU is usually over twice the price of a PSU.

Will It Fit?
Sometimes the chassis you're using is short depth, so may only accept a single PSU. We do have a range of chassis that are both short depth and work with special short depth redundant PSU's.


Do I Have Enough Power Sockets
A redundant PSU will have two or more PSU modules. Each of these PSU's will need its own dedicated mains connection – usually an IEC (kettle lead) connector. This


Can I Afford Downtime
This the main question to ask yourself. Indeed a redundant will have an initial capital cost (for example, £300 for the PSU compared to £100), but can your business afford the downtime. A redundant PSU is designed so if one of the "modules" in it were to fail then the system will continue to function with zero interruption. The faulty module can then be replaced, again with zero downtime. For the sake of £200 difference in price, could you afford several days (or more) of downtime? Most single PSU's are easily available, but if it's a rackmount or industrial PSU then it's possible the replacement may not be in stock, or it could be a weekend, for example. Most servers have a specific, relatively business critical operation – without suggesting too much "scare tactics", could your business afford this level of downtime? This is the primary argument for a single versus redundant PSU.



It's also possible that you can upgrade from a single to redundant PSU. This depends entirely on the chassis. It may be a simple swap-out or you may need special brackets. We can help you if you're upgrading – Just get in touch and we can help identify what you already have and what upgrade opportunities are available.

We can help you choose the right PSU – Please contact us and our team would be happy to work with you.