Supermicro Barebones - SuperServer or Custom Built? Which to choose
Server Case UK are a main UK based reseller of Supermicro components. We're an official Supermicro RTG (Ready-To-Go) partner.

We have an online catalogue of over 4,500 Supermicro products, ranging from weird and wonderful screw kits for server systems from years ago, all the way through to the latest SuperServer systems, Ready-To-Go models and 10th Generation X10 motherboards.

Supermicro is one of our key product lines – selling a huge quantity every day in both component form direct to customer, in barebones kit form such as the SuperServer systems, or fully assembled servers, built to customers exact specifications.
We quite frequently get asked to customise Supermicro systems based around a specific chassis, but a different motherboard combination. In the world of Supermicro everything usually must be validated, as if it is not then support from Supermicro is limited.

We have years of experience working with Supermicro. We can recommend the exact motherboards that are tried and tested with chassis not particularly offered as a validated or barebones/SuperServer configuration. As long as a motherboard is mated with validated RAM (specific models of Hynix or Supermicro) then you will be OK for validation from Supermicro. You will also be able to get the system certified by software vendors, such as vmware, Microsoft and Citrix, as an example.

We've included some of our most popular Barebones systems below;

SuperServer 1017R-MTF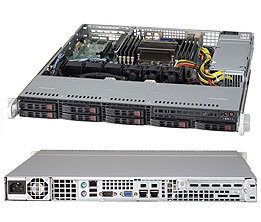 This is a 1U system supporting 8x internal 2.5" SATA/SAS drives, single PSU and a single E5 Xeon CPU. With 8 memory slots this gives the system the ability to support up to 256GB using 8x 32GB sticks. The CPU and board will support up to 512GB using 64GB ECC Registered DIMM's, when these are available. Out of the box though this Socket 2011 Xeon E5 system will support the latest V2 generation of E5 CPU's. This system is extremely popular with customers for rack-dense virtualisation. They're also perfect for office servers, as they are quiet, power efficient (80 plus Gold PSU) and cost effective to maintain and upgrade.


Supermicro 6027R-TRF




This is a 2U system supporting 8x internal 3.5" SATA/SAS drives, dual PSU as standard and has a similar board to the above 1U machine, supporting a single E5 Xeon CPU and same memory expansion options. These systems are more popular for storage systems. Again they can be used in a datacentre for traditional server OS installs but are more common for virtualisation with the likes of vmware or Microsoft Hyper-V. They are also quiet running and again the dual redundant PSU's are all 80 plus Gold, so are energy efficient also. The 80 plus rating makes a massive difference. A system fully populated, with 8x 3.5" drives, E5 Xeon, 64GB RAM and a PCI-E RAID card will use on average 150W, peaking at 320W under full load.


Supermicro SuperChassis – 216BA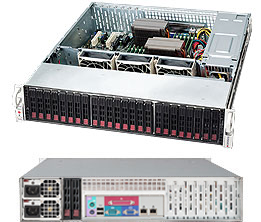 Looking for storage? The 2.5" hard drive chassis are very popular. We frequently sell these for SAN/NAS applications. They are increasing being used to support large SSD based RAID subsystems, using either traditional RAID cards (in RAID levels such as RAID 50) or software based RAID such as ZFS.

There are lots of different chassis, but for example the 216BA SuperChassis supports 24x front mounted 2.5" SATA/SAS drives and optional 2x rear 2.5" SATA/SAS drives. Usually the rear drives are used for RAID 1 mirroring with the OS, leaving all of the front drives for the data storage.

Supermicro SuperChassis – 417


| | | |
| --- | --- | --- |
| | | |


The daddy chassis is the SuperChassis 417. It supports 72x 2.5" drives. Assuming each of these was populated with a 2TB Western Digital RED NAS (24/7) 6Gbps SATA drive you could get 144TB (pre-RAID overhead) out of only 4U of rack space. Let's do the numbers – You could comfortably install 10 of these systems into a standard 42U cabinet, with room space for PDU's and switches. This could give you a potential of 1.4 Petabytes (1,440 Terabytes or 1,474,560 Gigabytes!) in a single cabinet!



Dozens of customers, new and existing speak to us daily to discuss their server requirements, mainly using Supermicro internals. Just call us on 0800 652 1649 or contact us. Our experience and knowledgeable technical team would be happy to help you from recommend components all the way through to a turnkey enterprise level server platform. We're always happy to help!