What's Happening at Server Case UK - August 2017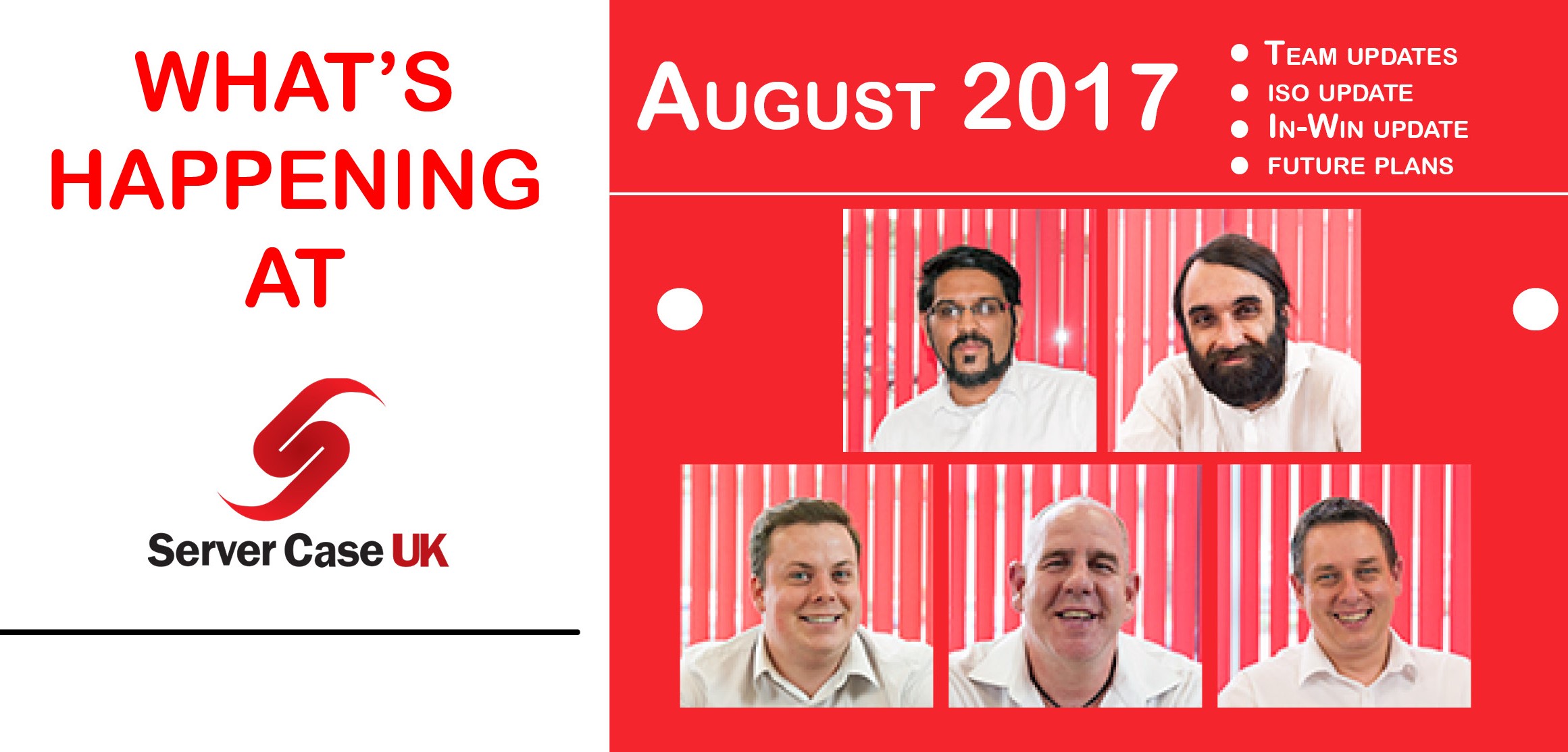 It's an exciting time for Server Case and it means great news for our customers
We've had a pretty spectacular time at Server Case in the past few months. We've brought in new faces, renewed old relationships and we've got a couple of exciting new additions to tell you about.
Team updates
In line with our strategy planning, we have undergone incredible growth the past quarter. I look around the office and I'm happy that we've taken on some superb talent. The team are brimming with enthusiasm, confidence and share an outlook which is the same as mine. They are focused on making sure our customers have the best experience possible.
We've almost doubled our entire workforce in the last 2 months. We've added quality to our sales team, taken on a new head of technical and brought our marketing in-house with a new marketing manager.
| | |
| --- | --- |
| | Tieran Berrey has joined our internal sales team offering server solutions and chassis/components. He comes from Box.co.uk as one of their specialist gaming sales persons. He has extensive technical knowledge with high-end PC's and has successfully integrated server technologies into his portfolio. Tieran brings his own brand of humour and life to the office environment. |
| | Luke McDonnell has joined our internal sales team. He has a degree in computing so is superbly placed to offer technical server solutions and to complement our existing team. Luke has a very bubbly and fun personality which I know customers will love. |
| | Keith Osborne has joined us as our In-Win Business Development Manager following our successful partnership with In-Win in the UK and Europe for their IPC (Server) chassis. Keith's job is to develop the UK sales channel for In-Win for both the supply of the chassis, barebones and full server solutions. His wealth of experience is already paying dividends with winning several large projects and penetration into some exciting markets. |
| | Arvinder Singh has joined us as our own dedicated Marketing Manager. He is chartered by the Chartered Institute of Marketing, he has a MSc in Strategic Marketing and has over 10 years of experience working within very large organisations such as the NHS, MHR and local authorities. Arvinder will be working with the company director and the sales team to develop new marketing strategies, channels, content and to maximise our market share within the UK and Europe. |
| | Andrew McLean has joined us as the head of technical. He has almost 20 years of experience working with high-end workstations, servers and gaming PC's and has extensive experience with liquid cooling and other exotic cooling technologies. He has a wealth of technical knowledge and experience. He will be heading up the production team within Server Case UK. |

I'd like to welcome them all and I know you'll receive an excellent service when you speak to any of them.
Systems and quality achievement
I am proud to announce that we have upgraded our ISO certification from ISO 9001:2008 to ISO 9001:2015. This means that our quality management system, policies and procedures focus on meeting and exceeding your expectations, we also:
have effective supplier management
have efficient and accurate product assembly
have efficient and accurate stock management and delivery

The certification recognises our work and we are thrilled to earn it but it's great to know that we have been working the right way for our customers all this time. 
We have worked hard to make sure we have a customer first culture.
In-win partnership continues to bloom
Our partnership with In-Win continues with the appointment of a new Business Development Manager and we are very happy to be working with a company that provides quality products and shares our values of great customer service. We've worked together for many years now and we look forward to many more.
If you're looking for In-Win chassis, a barebones offering or full server solutions, our new Business Development Manager, Keith is looking forward to hearing from you.
A sneak peek into the (near) future!

We don't stand still here at Server Case, not when there are potential solutions for our customers to be developed. So, with that in mind, there are two new exciting developments that we would like to announce;
ServerStore.com

Our new website will be live in the next 2 months! Server Store is our new customer commerce site and it looks gorgeous! It will be the home for our products and you will be able to easily view and purchase the solutions which fit your requirements.

Wait until you see our configurator and you will be able to create the custom server solution which suits your needs and budget.
Velocity WS

Hot on the heels of Server Store will be a remarkable launch and something we are very proud of.

Velocity WS (the WS stands for workstations) is the home for customisable, purpose built professional workstations for customers who require something special for day to day use.

We envision being the go to solution for Audio Professionals, Video Production, Video Walls/Digital Signage, CAD and many more industry sectors who are not being served well by the many off the shelf products available.

We understand specialist business needs and we have the technical expertise to provide tools not toys.
Look out for both and you will hear much more about both websites soon.
Don't forget to follow us on Twitter, add us on Facebook, join our circle on Google +, talk to us on LinkedIn or watch us on YouTube