Lexmark
A Global Technology Company
Lexmark International, Inc. (NYSE: LXK) provides businesses of all sizes with a broad range of printing and imaging products, software, solutions and services that help customers to print less and save more. Perceptive Software, a Lexmark company, is a leading provider of process and content management software that helps organizations fuel greater operational efficiency.
Creating Customers For LifeLexmark's success is driven by the company's overarching commitment to its customers. With a corporate vision of "Customers For Life," we earn our customers' loyalty by listening to them, anticipating their needs and working to create value for them.
International PresenceLexmark reported $3.8 billion in revenue in 2012, with approximately 55 percent of that revenue coming from international sales. Our products are sold in more than 170 countries in North and South America, Europe, the Middle East, Africa, Asia, the Pacific Rim and the Caribbean.
Responsible Employer and NeighborLexmark is a socially responsible company in our global community. We strive to maintain best practices for sustainability - balancing economic, environmental and social concerns.
We are committed to being a company with a strong respect for human rights, safe work conditions, and environmentally sound business practices, for our own organization and those with whom we partner.verage more than 30 years of experience and expertise to offer industry-leading technology.
Need Help? Contact Server Case UK today on 0800 652 1649 for product support.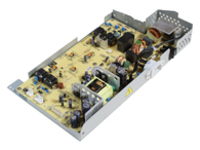 Lexmark 40X5362
Lexmark Card Assembly
£95.82 Inc. VAT
£79.85 Ex. VAT
In
Stock (4)

Lexmark 40X7798
Power Supply 220V
£142.02 Inc. VAT
£118.35 Ex. VAT
In
Stock (2)