Tower Cases from Supermicro
Super Micro Computer, Inc. or Supermicro® (NASDAQ: SMCI), a global leader in high-performance, high-efficiency server technology and innovation is a premier provider of end-to-end green computing solutions for HPC, Data Center, Cloud Computing, Enterprise IT, Hadoop/Big Data and Embedded Systems worldwide. Supermicro's advanced server Building Block Solutions® offers a vast array of modular, interoperable components for building energy-efficient, application-optimized, computing solutions. This broad line of products includes servers, blades, GPU systems, workstations, motherboards, chassis, power supplies, storage technologies, networking solutions, server management software and SuperRack® cabinets/accessories. Architecture innovations include Twin Architecture, FatTwin™, SuperServer®, SuperBlade®, MicroCloud, Super Storage Bridge Bay (SBB), Double-Sided Storage®, Battery Backup Power (BBP®) modules, Universal I/O (UIO) and WIO expansion technology all of which deliver unrivaled performance and value.

Server Case UK is a premium reseller, system integrator and solutions expert for Supermicro. We have over 10 years experience supplying components, barebone servers and complete solutions delivered to our customers. Our in-house sales team and technical experts have years of experience working with Supermicro and know how to put together the perfect, cost effective solution for your requirements.

Server Case UK supply Supermicro solutions into a varied customer base, including schools and education, local government, datacentres (ISP's and Hosting Providers) and offices all throughout the world.

Our product catalogue includes the full range of Supermicro products, including their SuperServer, Rackmount Chassis, Tower/Pedestal Chassis, Power Supplies, Cabinets, Validated RAM, Add-on Cards and Motherboards.
Need Help? Contact Server Case UK today on 0800 652 1649 for product support.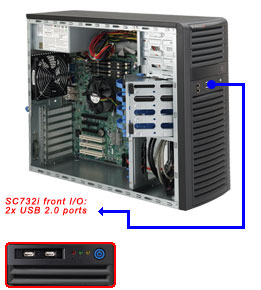 Supermicro CSE-732I-500B
Supermicro CSE-732I-500B
£281.28 Inc. VAT
£234.40 Ex. VAT
In
Stock (2)