Tucano
Italian design, quality, creativity, research, innovation, colour. For over the last twenty-five years this has been Tucano, the Italian brand of bags and accessories for digital devices appreciated worldwide.

With its steadily growing sales trend, Tucano is backed by a solid and far-reaching presence in the Italian market and aims at constantly asserting its brand in the European and in the foreign markets through strategic partnerships with the leading local distributors and through its subsidiaries Tucano USA in the United States, Tucano Dongguan in Asia, and the Madrid commercial offices for the Spanish and Portuguese markets. Tucano's success has been pursued with drive, determination, intuition and a good dose of creativity. The attitude towards research and innovation, the attention to the booming market for high-tech products to which Tucano has dedicated its internal production, and the team of Italian designers have all boosted sales over the years, along with the brand's increasingly international reputation.

Carrying cases for tablet, iPads and e-readers, iPhone covers, notebook and ultrabook bags and Secon Skin sleeves, backpacks, trolleys, camera bags, mouse pads and a wide range of accessories for Mac and pc designed for the sole purpose of meeting all the demands of today's digital life on the go. In the finest tradition of Italian design, Tucano products all aim at achieving a happy balance between practicality, ergonomics, maximum protection and a look that is always cutting-edge.

Tucano products can be found in computer shops - including Apple Premium Resellers network, in multimedia and music bookstores like Fnac all over Europe and Feltrinelli in Italy, in the stationery and office supplies sector and, above all, in consumer electronics specialized retail chains like MediaMarkt, Darty, Dixons Retail, Euronics, Expert and others. In recent years Tucano has brought dedicated products into department stores - like La Rinascente, Coin, BHV, El Corte Inglés and Selfridges - and travel stores, to many airports and to the best leather goods and luggage shops.

Whether for the most demanding businessman, the young manager, the student or the most exuberant creative type, Tucano always has the right product.

The Tucano headquarters is in Milan, Italy, a few steps away from Piazza Cadorna and across from Sforza Castle, a place where modernity and tradition come together, expressing the very essence of the city. Here we conceive, design and create all our products, packagings, graphics and communication campaigns.
Need Help? Contact Server Case UK today on 0800 652 1649 for product support.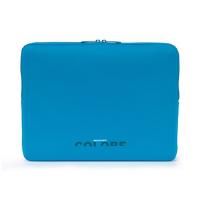 Tucano BFC1314-B
Tucano Colore Neoprene Sleeve (Blue) for 13 inch Notebook
£5.29 Inc. VAT
£4.41 Ex. VAT
In
Stock (30)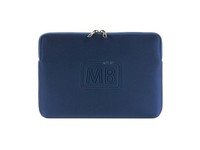 Tucano BF-E-MBA11-B
Tucano Elements Carrying Case (Sleeve) for 27.9 cm (11") MacBook Air - Blue
£6.63 Inc. VAT
£5.52 Ex. VAT
In
Stock (9)