Areca RAID and Storage Accessories – Now Available
We're proud to announce that we now hold the full Areca product line to buy. We have worked with Areca for many years, supplying their quality manufactured hardware to all types of customers – home users, professionals and system integrators.
Areca's product portfolio include enterprise-class RAID controllers, which is what they are best known for, plus storage arrays and related accessories.
One of their most popular products is the Areca 8050, 8-bay hard drive RAID enclosure. This is an external Apple Thunderbolt storage array. Not only can it handle 8x SATA 6Gbps hard drives or SSD's but it has built in Areca-thoroughbred RAID technology. The RAID controller in-built allows multiple RAID arrays to be created on the single storage array, plus many enterprise-class features, such as support for SSD RAID and all popular RAID levels.





To view the full range of Areca products we sell click here

We've put together a Top 5 list of Areca products that are best-sellers. We also have excellent pricing on these products within the market.
Areca 1882i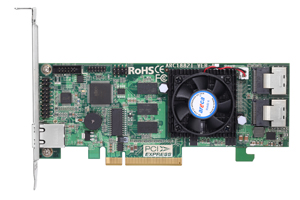 The Areca ARC-1882i is an 8port PCI-E Hardware RAID Controller. It has 2 internal SFF-8087 MiniSAS connectors. These connectors are 6Gbps and support both SATA and SAS drives.

The controller itself as you would expect supports the full range of popular RAID types, including 0, 1, 5, 6, 10, 30 and more.

Also on the controller comes an External 10/100 Ethernet Port. This is for connectivity to a LAN for remote monitoring and configuration.

The ARC-1882i is the most popular we Areca card we sell. The Kit form that we have on our products catalogue includes 2x internal MiniSAS cables, Low Profile Bracket and standard Full Height Bracket. Also included is the installation software and manuals.

An excellent in depth review of the Areca ARC-1882i RAID controller can be found here; http://www.tweaktown.com/reviews/4886/areca_arc_1882i_pcie_3_0_raid_controller_review/index.html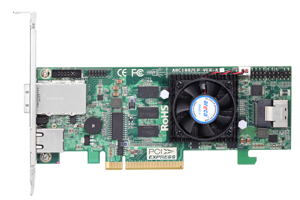 The Areca ARC-1882LP is similar to the ARC-1882i and is 8port, however the main difference is that it has an internal SFF-8087 MiniSAS port and an external SFF-8088 port. This allows the controller to provide storage RAID for internal drives as well as an external JBOD disk array.

This card is popular with customers who are making an expandable, reliable storage solution. An example installation of this card would be to install this card into a head/filer server, and then expand the array over one or more external SAS JBOD enclosures. This is a very popular option with our customers. This could be made fault tolerant by introducing a 2nd head/filer with suitable software and using multi-path SAS technology on JBOD enclosures that contain dual Expanders/Controllers.

We have a full range of SFF-8088 cables for use with this card, plus a range of JBOD disk arrays too. If you need a specific storage solution please contact us and our tech's would be happy to help design the best solution for you.




ARECA-8050-THUNDERBOLT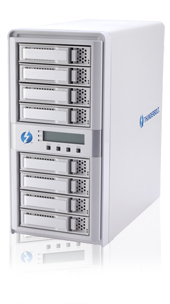 By far our most popular external hard drive enclosure! This is an absolute gem of a storage array. It is designed for industry professionals looking for high throughput read/write speeds, plus data integrity through the use of RAID.

The ARC-8050 is an 8 bay external storage array with in-built RAID. The controller chipset and firmware used on this system is the same thoroughbred tried-and-tested software used on the Areca RAID controllers that we sell.

The ARC-8050 is true Apple Thunderbolt. It has 2 rear accessible Thunderbolt connections, allowing daisy chaining of other Thunderbolt enabled equipment. You could add further Areca 8050 arrays, or thunderbolt products from other manufacturers, such as LCD displays or other external disks.

Our main customers for this product are professionals, such as graphic design, video editing (the most popular I would say) and also for cost-effective small business server storage. The new Apple Mac Mini Server is an excellent product, cost effective and small enough to fit in any small office setup. The Mac Mini has external thunderbolt connections, so you could easily add large storage capabilities to the Mac Mini by using the Areca 8050 8 bay disk array.

The external of the Areca 8050 is very pleasing to the eye. It is finished in silver, with a metal chassis. The drive bays are also metal and include disk activity LED's per caddy, to show operation. On the front is also a back-lit LCD to show status indication of the array and system itself.

To complement the Areca 8050 we can supply a wide variety of compatible hard drives. The system itself has been tested with 3TB Drives, so if all 8 drives are 3TB (remember you can mix and match) you could get 24TB of disk space (pre RAID setup).

If you need any help choosing suitable RAID hard drives, Thunderbolt cables or wish to create a custom Apple RAID storage system please let me know.



1880ixl-8 KIT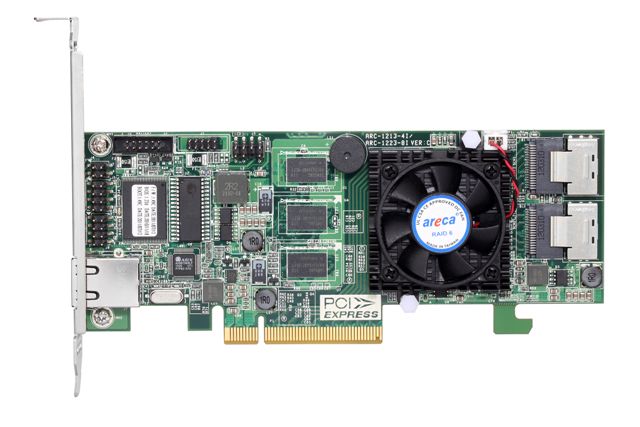 The Areca ARC-1880IXL-8 RAID controller is quite a gem. It is almost a one of kind in fact. It has 2x SFF-8087 MiniSAS Internal ports, and a single SFF-8088 external port. This allows for large internal storage capabilities, plus the ability to add massive external storage through JBOD enclosures. Please have a read of our write-up on the Areca 1882LP above.
1882X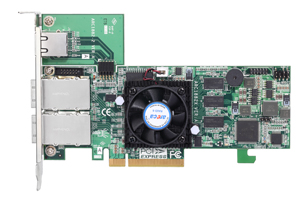 The Areca ARC-1882X is perfect for anyone wanting a cost effect 6Gbps SAS/SATA controller for use with multiple JBOD arrays.

There's no internal ports on this one – External Only. But what this card lacks on Internal Ports it makes up on External Ports. It has 2x External SFF-8088 SAS connections. This allows for multi-path SAS between multiple JBOD enclosures. This allows this single, small RAID card to be a very powerful device in a large storage array environment.

The card doesn't support RAID, however customers who use this use ZFS or other software based disk based file systems. A lot of our customers use this card over 2x head/filer nodes, running RedHat Enterprise, running ZFS. They would use multiple external JBOD arrays, with dual controllers. This allows for redundancy, resulting in a high uptime and reliable storage solution for medium to large installations.