New and Improved Intel NUC – Coming Soon!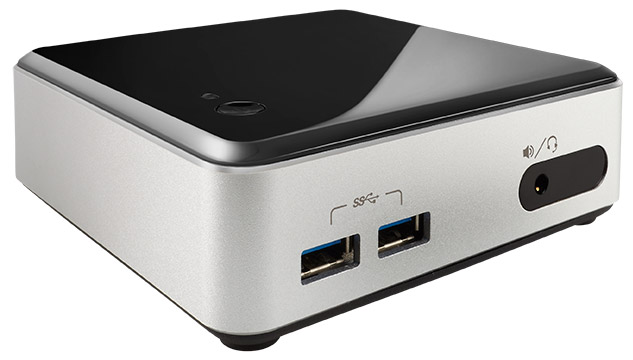 After the successful introduction of the Intel NUC last year I can confirm the latest Intel NUC, to support the 4th Generation Intel Haswell CPU's is coming soon!
We did a quick overview of the Intel NUC currently on sale back in July 2013. The original unit was considered a forerunner on the market for cost effective, energy efficient and compact performance computing.

The NUC, short for Next Unit of Computing, allows for a tiny powerful computer in a 4" footprint. The current models support embedded Intel i5 CPU's (Dual Core) and allow for up to 8GB RAM using standard SO-DIMM modules, plus an mSATA port for an SSD boot drive. Power is delivered using an external mains adapter, and connectivity for periperhals and display was by way of 4x USB 2.0 ports and 2x HDMI ports. An onboard Gigabit LAN port was available for hard-wiring to a network, or you could add a Micro PCI-E card for wireless capabilities.
The early NUC's had a slight issue with cooling when used with the recommended Intel mSATA SSD, but this was quickly fixed by way of thermal pads and a BIOS upgrade to control of the heat output from the CPU better.
The new NUC's however are another leap forward. The cooling issues have been resolved fully, and the systems silent, but within perfectly acceptable heat levels. The CPU cooler is copper bottomed and has better aluminium heatsinks and cooling holes in the case for increased airflow across all components. Magic!
The new NUC also supports the new Intel Haswell Embedded CPU range (4th Generation), has 4x lightning fast USB 3.0 ports, Mini DisplayPort for connecting to a HD LCD display, Gigabit LAN as before and a single HDMI port for connection to a display or large screen. Also front mounted are now 2 (of the 4) USB 3.0 ports, plus a standard IRDA receiver. This allows for generic remote controls to be used with the system (along with suitable receiving software).

I believe this combination would be perfect for a media centre player – Simply install Windows (or your chosen OS), and use your favourite media centre software, such as Windows Media Player, or my personal favourite, XMBC. You could easily then connect this via wireless or the onboard LAN to an external NAS drive for playback of HD videos to a big-screen.

The new Intel NUC's aren't available to buy yet, but as soon as they are we will be publishing another blog article with links to the individual products. Watch this space!

We've also found an excellent website with an in-depth review of the new Intel NUC – Check it out here; http://www.legitreviews.com/intel-nuc-kit-d54250wyk-review-the-nuc-gets-haswell-power_124251
To view our full range of current Intel NUC's please visit; http://www.servercase.co.uk/shop/search/intel%20nuc/