New Supermicro X10 Motherboards In Stock!
Server Case UK is delighted to announce the availability of the latest generation Supermicro X10 motherboards, compatible with the Intel Haswell and E3-1200 V3 Series CPU's.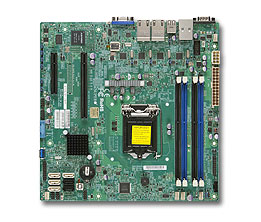 With energy and expansion costs rising worldwide, Data Centres and Cloud service providers need server and storage solutions that offer greater savings in operating efficiency and capacity. To achieve these goals Supermicro leverages its deep expertise in server technology to bring customers its newest, X10 series of server solutions and motherboards.

This latest generation of Supermicro motherboard supports loads of new features, such as the Intel® Xeon® E3-1200 v3 CPUs and up to 4 DIMMs operating at 1600MHz, with enhanced I/O performance provided by USB 3.0, PCI-E 3.0, SAS 2.0 or SATA 3.0 (6Gbps) HDDs, and quad Gigabit Ethernet LAN technologies. Power efficiency is improved with DDR3L (1.5v) support, LV CPU SKUs, Gold Level high-efficiency power supplies, and application optimized cooling. Supermicro on-board IPMI 2.0 provides cost-effective remote management for latest generation, high-performance SuperServer® solutions.

There's various reasons to choose the new X10 motherboards over existing X8/X9 series Supermicro boards;
E3-1200v3
22nm Tock Haswell
E5 V2 Tick 22nm Ivy Bridge End Of Qtr Tick
18% Energy Efficiency Increase
38% Increase In Performance Graphics
Improved Io Transfer Speeds
Low-Voltage Memory Option
AVX 2.0 Enhanced Compute Performance
Enhanced Encryption
Intel OS Guard Protect From Malware
Software Raid Performance Increase
OS Guard BIOS Has Protected And Non Protected Areas
Encryption On PCH Chip
OS Guard On Die Win And Linux
Data Protect Tech With Secure Key
Key Generation On Chip H/W cannot be hacked - FIPS 2 Cert
Graphic Improvement
HD Graphics For Entry-Level CAD
SAS or SATA Supported
Raid Level Migration Online Cap Expansion

We have the full range of Supermicro X10 motherboards available on our site to view and purchase.

Click here to view full range of Supermicro X10 motherboards.