Tandberg RDX - Easy to use, Secure and Fast Backups
It's a concern of every business and consume out there – Backup of data.

Traditionally companies would use a tape drive to backup data. These are still a proven and acceptable storage medium, but they are slow, and the backup media is still quite expensive.

Make some room for the Tandberg RDX.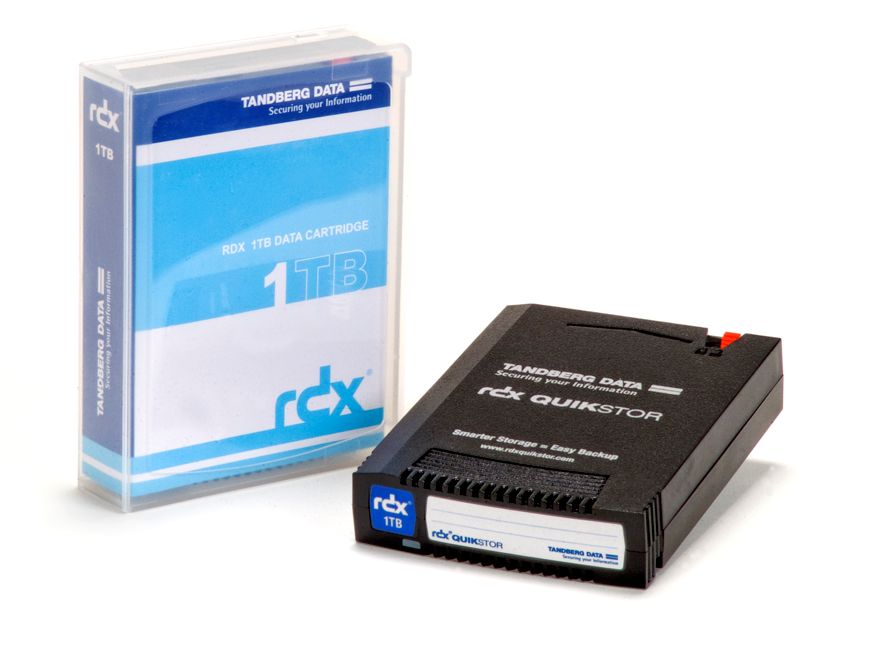 This isn't by far a new product – In fact it has been around for about 5 years, marketed under DELL RD1000 series, and HP RDX. They are all the same product though, manufactured by Tandberg (they all look identical in fact). The product has undergone some very minor visual revisions, but the functionality is the same, but with increased storage options.
The RDX format is in effect an external hard drive, but it is rugged and designed for easy use and transportation. Many of our customers use external hard drives for backup, but many don't think of the damage of dropping a drive, or even knocking it off a table. The RDX handles this, as the hard drive is encased in a plastic enclosure with rubber shock-mounts.

The RDX drive is available in both internal and external formats. The internal models fit into a 5.25" bay, and can connect to the host computer via USB or SATA (depending on the model). The external models are available in USB 2.0, and more recently, USB 3.0 for rapid data transfers.

The RDX as standard will show as a normal removable hard drive, but when used with software such as Backup Exec will be solely a "backup device". Backup Exec can also eject the drive automatically too, so it is ready to take off-site at the end of each day.

There are various drive sizes for the RDX, from a simple 80GB up to 2TB.
We stock the full range of RDX drives on our site – Click here to view and purchase online now.



To discuss your requirements, or to place an order please call our dedicated technical sales team on 0800 652 1649 or contact us.