Tower Server Cases - Perfect for Home and Office
While rackmount cases is our biggest range, and our best selling products, I wanted to ensure nobody forgot about the lonely tower server case, which is still perfect for small businesses and home users – where large rackmount cabinets are not necessarily required, or wanted.
We have a fantastic range of tower server cases on our site, from many different manufacturers, pricing and sizes to suit all customers' requirements.
I thought I would detail some of our most popular models, and explain the reasons I have chosen them in our "Top 3" tower cases review today.


This is the granddaddy of tower server cases. It's been around almost as long as I have too. It is a standard tower case, but while it's been around a bit, it definitely still fits in with current technology and looks good in any location.

It's quite large, allowing for full size EATX motherboards, 8x 5.25" bays and 1x 3.5" bay. The chassis also allows for either a standard ATX PSU, or a Mini Redundant PSU.

At the front is a large lockable door to protect the drive bays. LED indicators show the usual status of various installed components, such as power, network and hard drive activity. The power and reset buttons are located behind the locked door, so will prevent tampering fingers! At the rear is a large 120mm fan to exhaust the hot air from the system – Simple!

A firm favourite with our customers is to install multiple hot-swap drive bays into this case. Our most popular is to install our Logic Case SC-H500. There are 8x 5.25" bays available in this case, so this would allow for 2x SC-H500's to be installed, allowing 10x hot-swap 3.5" drives. This leaves 2x free 5.25" bays, which could either be used for a tape drive and/or CD/Optical drive, or in fact used with our SC-H300, allowing a further 3 hot-swap drives to be installed. This means the case could allow for up to 13 hot-swap drives!

Another feature of the 8001BUH is that it can be rackmounted. It is a standard 5U height, and with an optional rack kit can be converted to include rack ears and a rail kit for installing in a cabinet. This is a firm favourite as it allows companies to start off with this case in tower/pedestal configuration, and as their requirements grow, could then rackmount this in a suitable server cabinet.


Supermicro 732D2-400B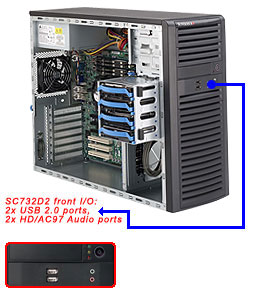 This is a great all round mini server case. While the PCI Case model above is the beast/granddaddy of cases, this Supermicro model is definitely a smaller and compact option.

This is a mini size, so is perfect for installation in small offices, where space is a little more limited to the PCI Case model.

It accepts a Standard ATX motherboard (largest), includes a 400W PSU and supports 2x 5.25" bays (for optical, hot-swap module or tape drive) and has 4x fixed 3.5" drive bays. While these drive bays are fixed, they are easily removed using tool-less rail designs.

Our customers frequently use this case with lower-end server installs, using a standard Intel motherboard fitted with a reasonable specification CPU (e.g. an Intel Xeon E3-1200 Series, or an Intel Core i5). The 400W Server Grade PSU is more than enough to drive these plus ancillary components.


Supermicro 748TQ-R1200B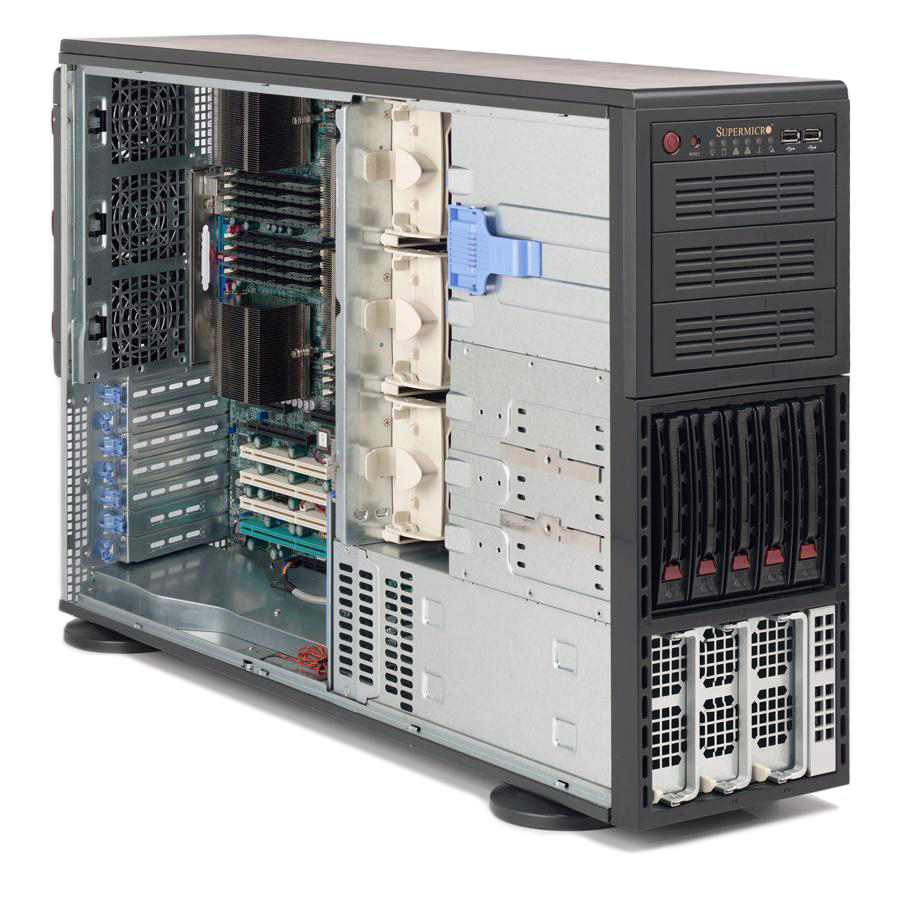 The Supermicro 748 series chassis is definitely the bigger brother to the Supermicro 732 above. The main difference being that the 748 accepts a full size ATX motherboard (E.g. EEB ATX, CEB ATX), but will also work with smaller boards. Also as with many Supermicro cases these days you don't necessarily have to use a Supermicro board either – you could use any compatible board from Micro ATX upwards in fact. This case though does allow their special proprietary Quad CPU boards, so it's suitable for pretty much anything.

The case as standard comes with;
3x 80mm Middle Mounted PWM Fans
5x Bay 6Gbps SATA/SAS Hot-Swap – For 3.5" Hard Drives (or 2.5" with an adapter bracket)
3x Hot-Swap 1200W 80 plus Power Supplies (Front mounted hot-swap)
3x Rear 80mm PWM Exhaust Fans
3x 5.25" Drive Bays

Blimey – It's a beast!
If you would like to discuss your requirements or would like to talk to a member of our sales team about the right case for your requirements, please contact us or give us a call on 0800 652 1649. We would be happy to help.