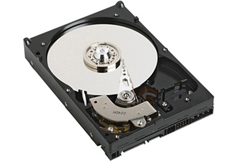 Hard Drives
Server Case UK have a huge selection of Hard Drives, Solid State Drives (SSD's), mounting frames and hot-swap enclosures.

Drives are commonly connected using SATA or SAS connections, currently up to 12Gbps. Drives can be installed fixed internally or installed into a suitable hot-swap enclosure. If fixed internally this is the lowest cost and may require brackets, but means the system would typically need to be shutdown to swap our or upgrade disks. If using a hot-swap module this allows the disks to be easily removed, usually without . We do also provide PCIe NVM based SSD's which have massive bandwidth capabilities.
Need Help? Contact Server Case UK today on 0800 652 1649 for product support.