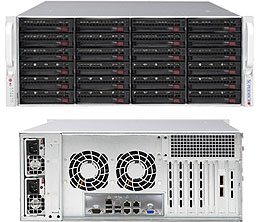 Supermicro SuperChassis CSE-846BE1C-R1K28B
Part Code:
CSE-846BE1C-R1K28B
Features
Supermicro SuperChassis CSE-846BE1C-R1K28B
Click on a thumbnail below to view a larger image.
Note: We do our best to ensure that the photo's shown are of the current revision of each product, however please contact us if you need to confirm the cosmetic design shown is correct before ordering. The hardware components shown in the photo's are not included and are for illustrative purposes only, please call to confirm if in any doubt.
Product Description
Product SKUs

CSE-846BE1C-R1K28B

SuperChassis 846BE1C-R1K28B (black)

Form Factor
4U chassis for motherboard support size of 12" x 10", 13.68" x 13", 9.6" x 9.6"

Processor Support
Single and Dual Intel® and AMD processors

Dimensions

Width

Height

Depth

Packaging

34.3'' (W) x 26.5''(H) 13.5'' (L)

Gross Weight

Available Colors

Expansion Slots
• 7 full-height & full-length expansion slot(s)

Drive Bays
Hot-swap
24 3.5" hot-swap drive bay
SAS or enterprise SATA HDD only recommended

Backplane
4U Expander Backplane, features:
• SAS2 compliance
• Scalability through cascading
• 6Gb support
• Inband SES-2 Enclosure Management
• SAS/SATA support
• Single input/output SFF 8087 connectors

Peripheral Drives
• 1 Optional 3.5" internal fixed drive bay
• 2 Optional 2.5" hot-swap drive bay
• 2 Optional 2.5" internal fixed drive bay

Front Panel
Buttons
• Power On/Off button
• System Reset Button
LEDs
• 2 Network Activity LEDs
• Fan Fail/System Over Heat LED
• HDD activity LED
• Power Status LED
• Unit Identification (UID) LED

System Cooling
Fans
3x 8cm hot-swap redundant PWM cooling fans

System Monitoring
Chassis intrusion switch

Operating Environment (System)

Operating Temperature Range

Non-Operating Temperature Range

-40°C ~ 60°C (-40°F ~ 140°F)

Operating Relative Humidity Range

8% ~ 90% (non-condensing)

Non-Operating Relative Humidity Range

5% - 95% (non-condensing)

Power Supply
1280W Redundant High-efficiency Digital Power Supplies w/ PMBus 1.2

AC Input

1000W Output @ 100-140V, 8-12A, 50-60Hz
1280W Output @ 100-140V, 6-8A, 50-60Hz

DC Output

1000W: +12V/83A; +5Vsb/4A
1280W: +12V/106.7A, +5Vsb/4A

Certification


Platinum Certified
[ Test Report ]

Regulatory (Power Supply)
Power Supply Safety / EMC

USA - UL listed
Canada - CUL listed
Germany - TUV Certified
EN 60950/IEC 60950-Compliant
CB Report
CCC Certification
See Parts List



Standard Parts List
Part Number
Qty
Description
Chassis
CSE-846BE1C-R1K28B
1
4U Chassis (Black)
Backplane
BPN-SAS3-846EL1
1
SAS 12G single expander backplane, with LSI SAS3 expander, support 24x 3.5" SATA3/SAS2/SAS3 drives, with 4x mini-SAS HD connectors, 2 for uplink and another 2 for downlink,RoHS/REACH,PBF
Cable 1
CBL-0234L
1
Y CABLE FOR 4-PIN HDD
Power Supply
PWS-1K28P-SQ
2
1U 1280W, redundant single output power supply
Power Distributor
PDB-PT846-2824
1
PDB with 23pairs input connector support SC846B
Air Shroud
MCP-310-49003-0N
1
SC846 Intel DP X9, X8 PC air shroud 1368x13/12x13MB
Cable 2
CBL-0160L
2
NEMA5-15P to C13 US power cord 16AWG 6ft, PBF (default for high watt)
Cable 3
CBL-0071L
1
ROUND 16 pin TO 16 PIN RIBBON FP CABLE 30
Cable 4
CBL-0217L
1
16 pin control panel converter cable for SC826,846, 22cm, PBF
Fan 1
FAN-0127L4
3
80x80x38 mm 7K RPM SC846 Middle Fan w/ Housing
Fan 2
FAN-0125L4
2
80x32 mm 6.7K RPM SC836 Rear Exhaust Fan w/ Housing
Front Panel
MCP-280-82601-0N
1
Front control board adapter (TB826) for SC216,826,936,846
Drive Tray(s)
MCP-220-00075-0B
24
Black gen 5.5 hot-swap 3.5\" HDD tray
Mounting Rails
MCP-290-00057-0N
1 set
Rail set, quick/quick, default for 4U 17.2
Mounting Rails
MCP-410-00007-0N
1
Rail screw bag
Rear Window
MCP-240-84602-0N
1
846B rear window which support 2 X 2.5\" HDD module and DVD

Optional Parts List
Part Number
Qty
Description
Control Board
SCPTJBOD-CB1
--
JBOD Storage Power-up Control Board
HDD Tray
MCP-220-84606-0N
--
Optional HDD kit for SC846BA/E16/E26 chassis only
Middle Fan Kit
MCP-320-00045-0N-KIT
--
Middle fan kit (7Krpm fan) for 835X/836/836B/846/846B
Short Rail
MCP-290-00058-0N
--
Redundant fan kit (including fans)

£1,478.34 Inc. VAT
£1,231.95 Ex. VAT
Out
of
Stock
Lease this product for only
£42.50 per month
Learn More Today
Leasing Terms & Conditions Apply. Subject to Status. Minimum order of £1000+VAT to qualify. Minimum term of 24 month lease. Lease example shown is for a 36 month lease.