Cores for concern?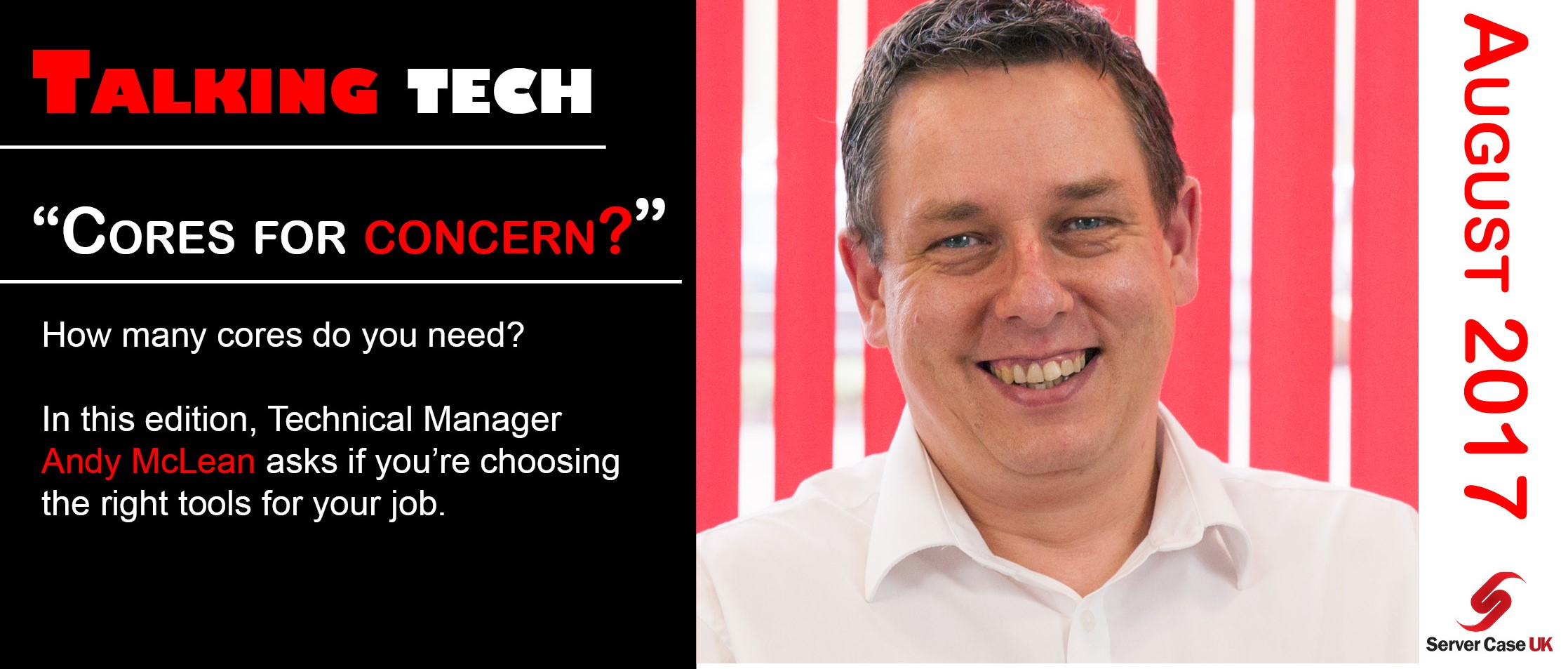 This summer we've seen the launch of Intel's latest and greatest 'Core i7 & i9 series with the announcement of the new flagship i9 7980 XE (Xtreme Edition) 18 core (36 Thread) monster scheduled for release in Q3 this year.
Whilst nothing new to the server arena, this number of cores is a gigantic leap for the desktop & workstation market. Until recently (with AMD's 16 core Ryzen launch earlier this year) most desktop & workstation CPUs have topped out at either 4, 6 or 8 cores……..looks puny in comparison right?....not necessarily.

How many cores do you need?
This depends entirely on what software you are running and what workload you expect your machine to do. For example, a big virtualization server may be running 500 virtual machines in an office block. Each user will need a share of CPU power/ time/ resources as well as memory, storage, network and internet access. Clearly a powerful machine where very much a 'the more the merrier' approach to CPU cores and memory will benefit.
A workstation user primarily working on 3D modelling for the movie/ visual FX industry would also benefit from this as the software in this sector will usually use as much RAM and CPU cores as it can because the software is coded to do so.
Change this workstation to a 2D design system for a package like AutoCAD and it can be a different story. Some software is 'single threaded' or maybe only coded for 4 cores. In which case you could run it quite happily on intel's £1500 i9 7980XE 18 Core (36 thread) uber monster beast with ease……..HOWEVER, you will, if that quad threaded software is your main use, have wasted the best part of £1300 because you will only be using 4 of the CPU's available 18 cores. A quad core (4 core/ 8 Thread) CPU would have been more than sufficient at around £230.
The same logic can be applied to any server, workstation, laptop or gaming PC. They are all very different machines. They all have a specific job to do and should be configured for task. Put simply, tools for the job.
Your business needs aren't 'off the peg'...
Neither are our systems.
Don't forget to follow us on Twitter, add us on Facebook, join our circle on Google +, talk to us on LinkedIn or watch us on YouTube