Choosing the Right Chassis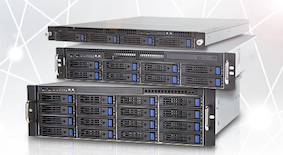 Many of todays incompatibilities with Server Systems are predominantly caused due to the User purchasing the incorrect Chassis for their requirements. This can lead to systems having to be regularly upgraded and expanded, or even having to be replaced altogether, long before they become obsolete. This can be avoided if careful consideration is given to the main aspects of a Server Chassis when purchasing. These include:
• Size
• Power
• Speed
• Air Flow
• Hardware Compatibility
• How Swap Bays
• Redundancy
• Design
The size of your Chassis is the most obvious requirement to consider, mainly determined by whether your Chassis will be Rack Mounted or Free Standing. Rack Mounted Chassis come in 4 Standard Sizes, 1U, 2U, 3U and 4U. 1U Chassis range from 17.7" in depth up to 21.5". 2U Chassis also start around 17.7", but can be as deep as 24". 3U can be up to 25.5" in depth and finally 4U a maximum of 26.4" deep.
The Power required by your choice of Chassis is determined by the number of components you require (Processors, Expansion Cards, HDDs, etc.). There are wattages to consider for each Chassis:
• Full Tower Server Chassis 300w – 800w
• 1U Rackmount Server Chassis 400w – 600w
• 2U, 3U, 4U Rackmount Server Chassis 600w – 750w
When it comes to Speed, this is determined mainly by the components inside your Server as opposed to the Chassis itself. Speed is dependant mainly upon Processor Speed, Memory, Disks and Network adapters. However, if you purchase a Chassis that does not support the necessary components to deliver your required speed, then this can slow you down. This is why choosing a suitable Chassis can be an important factor in the the overall speed / performance of your Server.
Air-Flow in a Server system is vital for maintaining a safe temperature for your core components, especially Processors. As standard 1U Chassis incorporate 4 x 56mm Fans for the HDD Bays, CPUs and Cards and 2U systems will normally include a fifth fan, again normally 56mm but can be larger to cover other internal devices. Most modern Power Supply Units include their own ventilation, with 1U PSUs typically having just 1 rear fan, while bigger, more powerful, units using a second fan on the front and ATX models utilizing a much bigger fan (typically 120mm).
With the world of software, specifically Operating Systems, evolving as fast as it has in recent years, it is very important to choose a Chassis that at least incorporates the hardware compatibility you need with your choice of software, if not future-proof hardware, which will be compatible for future generations of your Operating System.
When considering your choice of Operating System, keep in mind that as well as Windows based Server OS's, there is also LINUX and UNIX based software that can be used. However, these do not tend to be as universally compatible.
If possible, purchasing a Chassis with Hot-Swap Bays is always the best option. The main advantage being that you do not have to power down in order to add / remove HDDs. Second to this, should one or more of your HDDs Fail for any reason, you should not have to endure any down-time before they can be replaced.
All Power Supply Units fail….eventually. So, in anticipation of such a occurrence, should your Server System demand it, you might consider a Redundant PSU. That way, if one fails, the second takes the strain until a working replacement is installed, again this occurs with no actual down time giving you continuous efficiency and productivity.
Last but by no means least important, decide whether your Chassis should be lockable. It is very often that smaller business, especially with Tower Chassis as opposed to Rackmount, store their Server systems in communal, easily accessible and, therefore, insecure locations. Having a lockable Bezel on your Chassis can prevent your system being inadvertently shut down or rebooted, saving you time and effort in the long run.