PowerNAS Rackmount 2U

Following on from our PowerNAS Rackmount 2U Blog a few weeks ago, we take a slightly more in-depth look at this Chassis. This is an enterprise-class Server and Storage solution but available in the small-business price bracket and, although its entry-level capacity is huge, it features extensive potential for expansion.


Along with a SuperMicro Motherboard and Microsofts WindowsStorage Server 2012 R2, the Chassis houses 12 Front-Facing Hot-Swap Drive Bays, along with Mirrored 120Gb SSDs for the OS. HDDs are standard SATA for your own drives, or PowerNAS can supply these Chassis fully populated with WD Red Drives.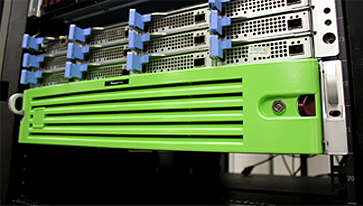 Set-up and configuration here is very simple, especially if you are already familiar with Windows Server 2012 R2, as It comes with Server Management Console software, which can easily be used to combine drives into a single storage space. This can be expanded with new drives, no matter what size, simply by adding them to any of the existing combined drives.

For full information on this Chassis or any from the full range of PowerNAS, click here

For further information on all of our 1000s of products, click here

Or contact us:
Call: 0800 652 1649
Email: [email protected]
Live Chat with us on our Website